From the daintiest cotton bralette to the finest couture-level handmade silk bra, lingerie addicts know that dozens of bra options exist for every occasion.
But of course, not everyone knows this – including the founders of ThirdLove, a bra brand claiming to give consumers a "third option" between the two singular types of bras: "sexy" and "comfortable."
If you've been a TLA reader for a long time, you know I have a lot of thoughts about bra startups. Mainly, that they aren't doing much.
Most direct-to-consumer bra companies are doing the same thing every other company is doing, presented in a shiny, vaguely-inclusive, Millennial pink package. This is fine on its own, especially if the bras they're selling are perfectly wearable. But their marketing is often misleading and designed to take advantage of consumers who don't know any better. (I wrote an article on this in 2017, and it unfortunately still applies today.)
I'm not sure if ThirdLove can be considered a startup anymore, since they topped $100 million in revenue in 2020. But true to their bra startup roots, ThirdLove's marketing is full of straight up lies.
In a May 2021 interview with CNN, co-founder Heidi Zak claimed that ThirdLove carries "the most sizes in the industry," which is a lie. She also claims to have invented half cup sizing, which is also a lie. (Playtex did this in the early 2000s with their "Half Sizes Too" line.) Half cup sizing itself isn't necessary or even real, as the Bare Necessities blog nicely explained in 2017.
But most bra startups have ridiculous marketing for bras that are perfectly fine. I have a ton of friends who love their ThirdLove bras! So I was excited to try them out.
I took their fit quiz, which put me in my usual size of a 32H. One of the bras they recommended for my size and breast shape is also one of their most popular: The 24/7 Classic Uplift Plunge Bra, the brand's take on the famous Natori Feathers.
The Bra
The first thing I thought when I took this bra out of the box was, "This bra is overpriced."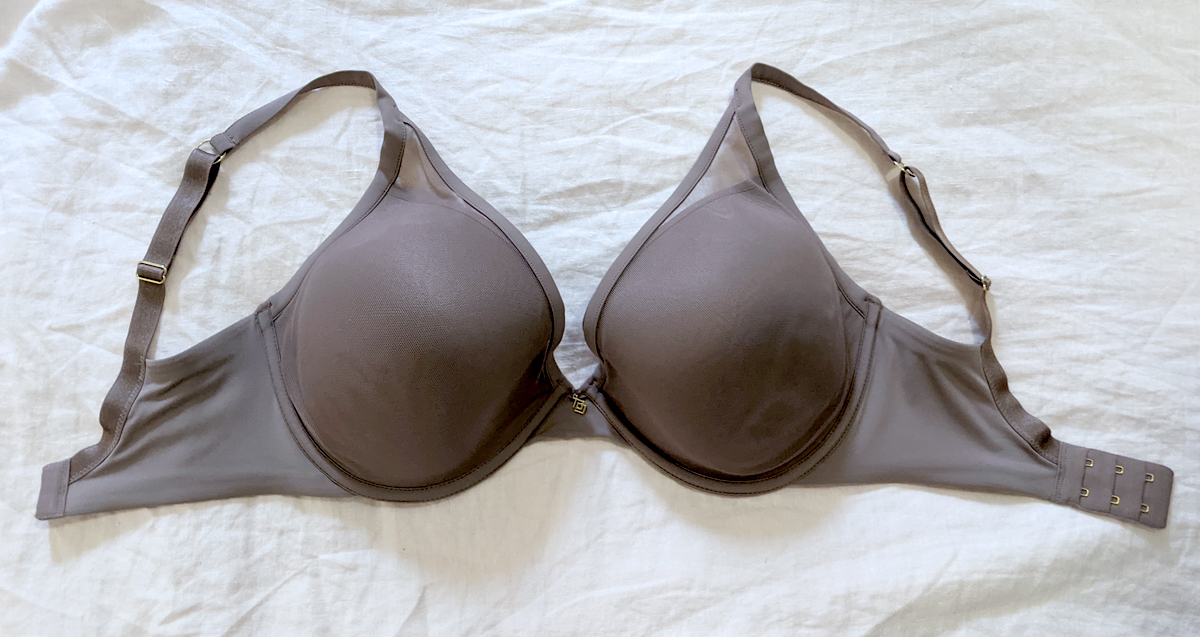 At $65 full price, I didn't expect a couture level bra. But I did expect this bra's quality to be in line with Victoria's Secret's t-shirt bras, or even the Natori Feathers. However, the quality is more in line with the $9.99 Target and $15 Walmart bras I've reviewed in the past.
The fabrics feel incredibly cheap for this price point. The binding over the edges of the cups is bulky and looks cheesy. You can easily pull apart the foam cup from its heat-set covering. The stitching itself is OK on this bra, but the raw trimmed edge along the top back elastic of the band is poorly cut. If I saw this bra hanging in a boutique for $65, I would be shocked.
This particular bra comes with removable inserts inside the cup. If you have some asymmetry, using one insert on your smaller side is a great way to fix that. But if you're looking for extra lift, you won't get much. Especially in my size, the inserts are too small and flat to be functional.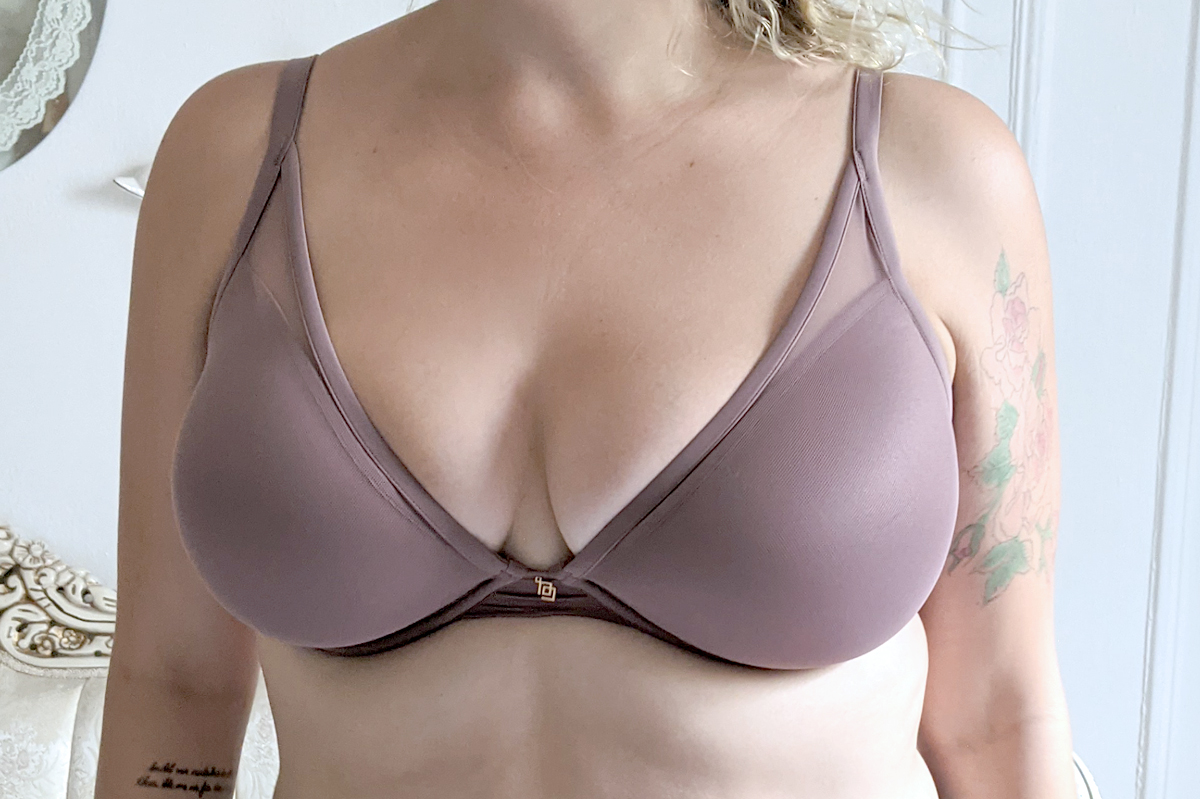 The Fit
ThirdLove's fit finder suggested my usual size of 32H (or a 32FF UK). I think this is probably my best size for this bra. The band is a little stretchier than I prefer, but that's the nature of the microfiber they've used for the side panels. I don't think I'd like a size smaller. Although the cups are very wide set, they seem to be the correct volume.
However, it does not fit me. And honestly, I don't think it would fit most fuller bust people.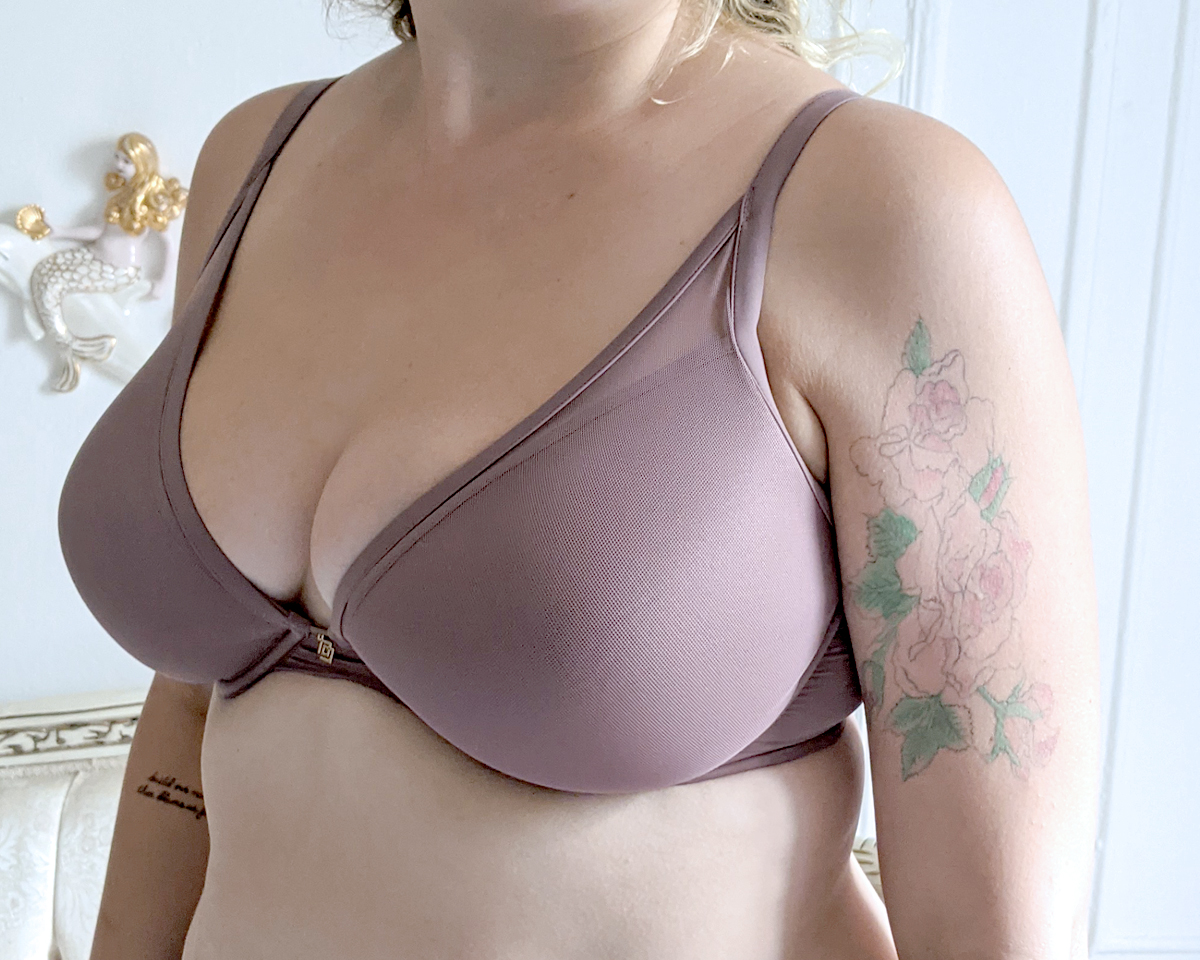 I'm not an expert grader, but I know breast tissue sits differently on someone with a 32H cup versus a 32B cup. And when this bra was graded up to my size, these proportion changes were not taken into consideration.
The entire cup, from the top to the bottom, seems like it was scaled up in exactly the same proportions as a smaller size. There's a ton of extra fabric up by my shoulder and under my armpits, to the point where it folds over itself if I'm not standing in exactly the right way. But the front cuts into my cleavage, so a smaller cup would not help.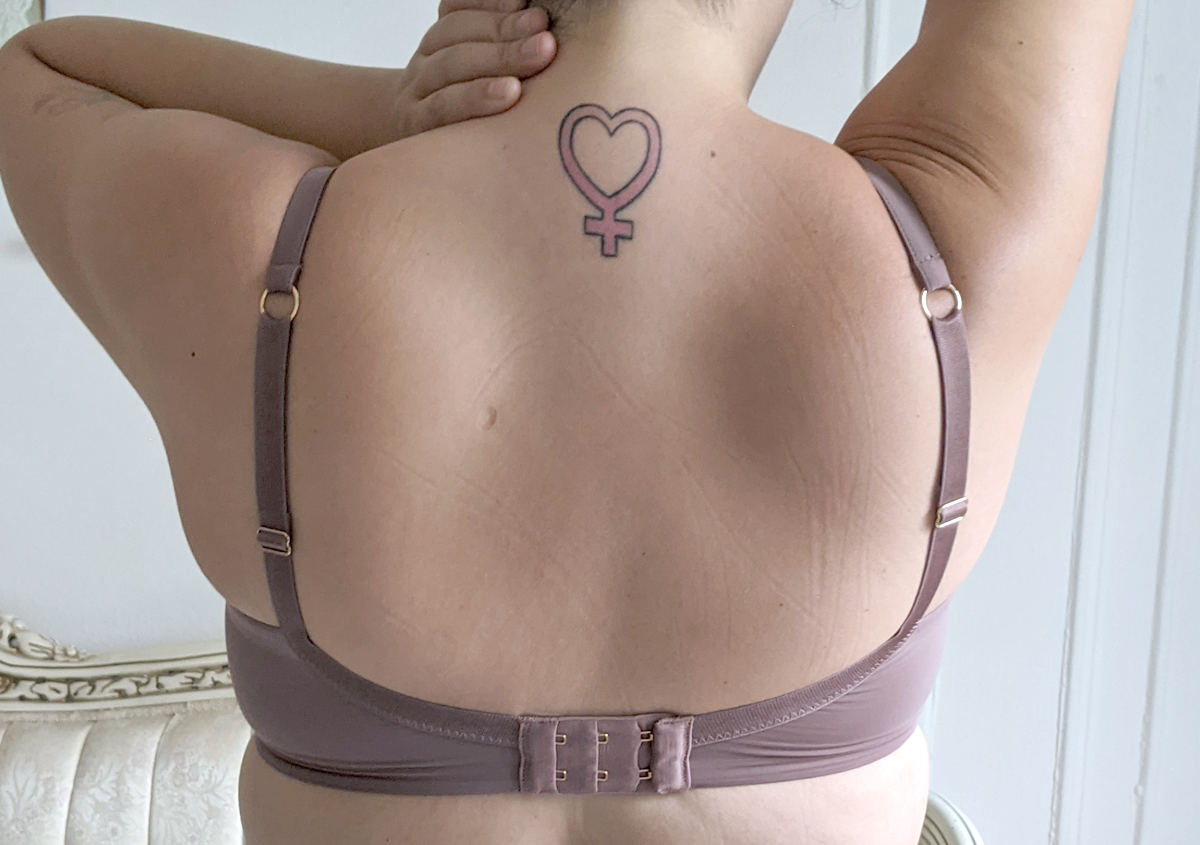 If you've read my other reviews, you know I'm not a very picky bra-wearer. I don't have many unique fit considerations, and often wear bras that don't "technically" fit me because they're comfortable or cute. I'm certainly not a bra fit evangelist. But honestly, this bra is one of the most extreme examples of poor size grading I've ever experienced in an everyday bra.
Unfortunately, this bra has more issues than just the fit. I mentioned earlier how it was clearly inspired by the Natori Feathers bra. Most brands have their own version of the Feathers, and for good reason. Its cup shape, topped with its mesh and lace overlay, makes for a very forgiving fit, and it disappears under a t-shirt. Unfortunately, ThirdLove's thick binding along both the mesh and foam parts of this bra completely obliterates any chance of this bra hiding. Add in the fit issues, and I would not be able to wear this under a close-fit top.
On top of all that, I have no clue why this is called a pushup bra. It's just not engineered as one. The flat removable inserts are available for a quarter inch of extra fullness, and that's it. Plus, the cups are so wide-set, my cleavage actually pushes against the engineering. If you like wearing push-up bras for extra volume or lift, this isn't the bra for you.
Overall Thoughts on ThirdLove
Although I've been critical of ThirdLove's wildly inaccurate marketing in the past, I fully expected this bra to be a perfectly good t-shirt bra. Sadly, it wasn't.
The fabrics are cheap and the construction is mediocre. Most importantly, the shape itself is poorly engineered. I cannot recommend it, especially to fuller busted people.
If a ThirdLove bra you're looking at goes on sale, you might be happy with your purchase. But I cannot recommend this bra at full price. You honestly might be better off with a $7.50 t-shirt bra instead.