Minor spoilers for Lessons in Chemistry ahead. In Apple TV+'s Lessons in Chemistry, brilliant scientist Elizabeth Zott (Brie Larsen) turns her love of chemistry into a popular cooking show, Supper at Six. Following a rough start in episode five, the exacting culinary artist finds her recipe for success, teaching her fellow multitasking women how to prepare inventive meals — all while spreading the gospel of science. As she inspires her fanbase to dream bigger than the patriarchy-established societal standards of the early '60s want them to, Elizabeth wears a cinched-waist lab coat, dazzling with emerald paillette and sequin embellishments (photo above) — a departure from the uniform of plaids she wore at the Hastings Research Institute.
Early on, costume designer Mirren Gordon-Crozier used the fall-favorite pattern to highlight Elizabeth's status as the lone female lab assistant. Her dark A-line tartan skirts, plaid button-downs, and conservative knitwear connect her to the scientists, less capable men who bark coffee orders at her. Her all-business aesthetic also alienates her from the other women on staff, secretaries who dress in soft pastels with prim details, like scalloped collars and flouncy ribbons.
"I really wanted her to be differentiated from the other secretaries, but also fade away a little bit into [the crowd of] the male scientists," says Gordon-Crozier. "Plaid is more of a traditionally 'masculine' print, also. It's not like florals or ditsy prints."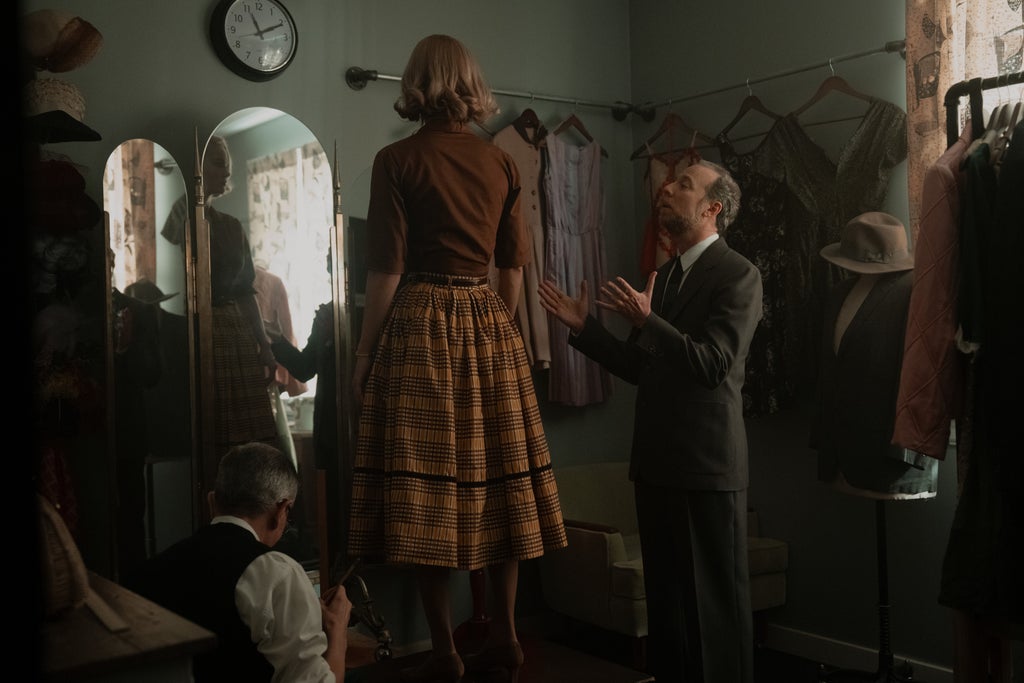 Plus, neither pattern style would resonate with Elizabeth's regimented and analytic mindset, which prefers her music to be "predictable" and not "cluttered." (Until her late soulmate and professional partner Dr. Calvin Evans, played by Lewis Pullman, warmed her to jazz, that is.) "Elizabeth Zott would be drawn to plaids, which are very angular, square, and [have] defined angles," Gordon-Crozier confirms. "It's a pattern that would sum up her personality."
After Elizabeth is forced to leave Hastings, plaids take on a different meaning and illustrate the special bond between her and her daughter Mad (Alice Halsey), who's likewise gifted, headstrong, and sharp. During a grocery store run, Elizabeth, in green-and-red madras pedal pushers, comforts Mad, looking adorable in a glen check wool coat. "Mad's a little bit of a mini-me to [Elizabeth]… they're so close," says Gordon-Crozier. "She really looks up to her mother." Mad's Sherlock Holmes-ian mix of prints also feels on-point as the resourceful eight-year-old begins investigating the background of her father, who died before she was born.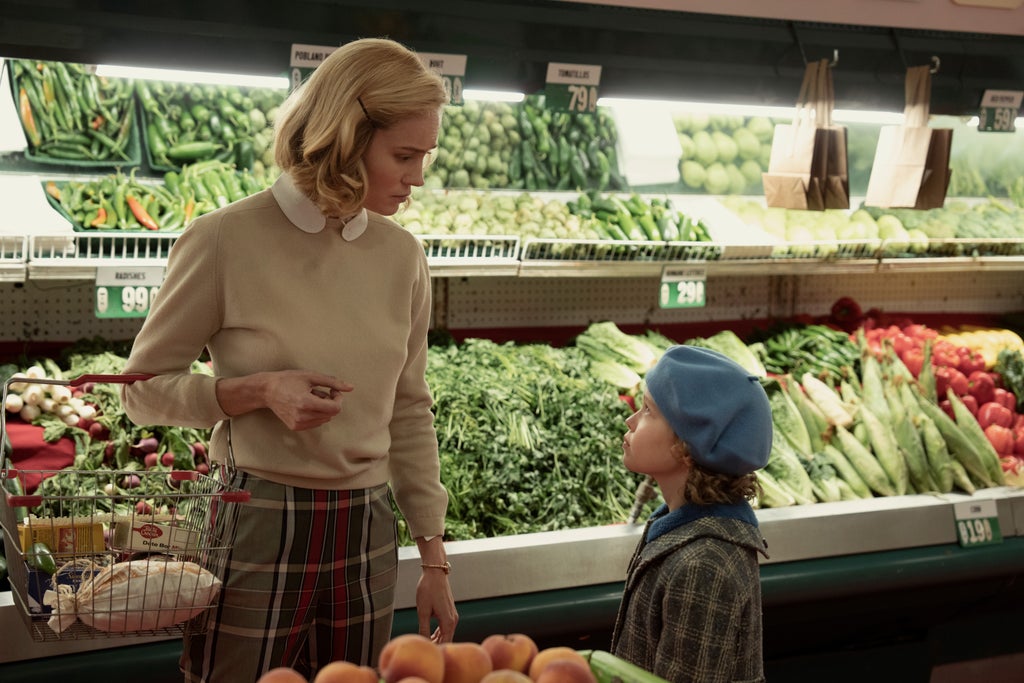 At one point, Elizabeth supports herself and Mad by charging her former colleagues for problem-solving and perfecting their lab findings. Her new work uniform features pieces like a masculine-inspired argyle sweater vest, a green buffalo check shirt, and high-waisted pants. "At Hastings, it was a requirement for women to wear skirts… [so] it's a power move in a way," says Gordon-Crozier. "The [men] are asking her for help. She can wear whatever she wants. She doesn't have to dress up for the men anymore."
For the scene where Elizabeth demolishes the kitchen and rebuilds it into a laboratory, Gordon-Crozier outfitted Larsen in utilitarian jeans. The costume designer meticulously sourced "broken-in and lived-in" jeans from Etsy, eBay, and costume rental houses. "The best thing is getting that unicorn pair of jeans," she says of mid-century design elements, like front patch pockets, side zippers, and ultra-high waistlines. "I was on the hunt for the most interesting worn-in jeans, hoping for ones with paint, ones with marks of character," says Gordon-Crozier. "I really thought she would start wearing that kind of workwear garb when she's doing construction on her kitchen." 
For more intimate scenes, like when Elizabeth imagines having a conversation with the late Calvin while sitting on her kitchen floor, Gordon-Crozier clad Larsen in a collegiate argyle knit (worn over a white short-sleeve shirt), cuffed dark jeans, and sneakers.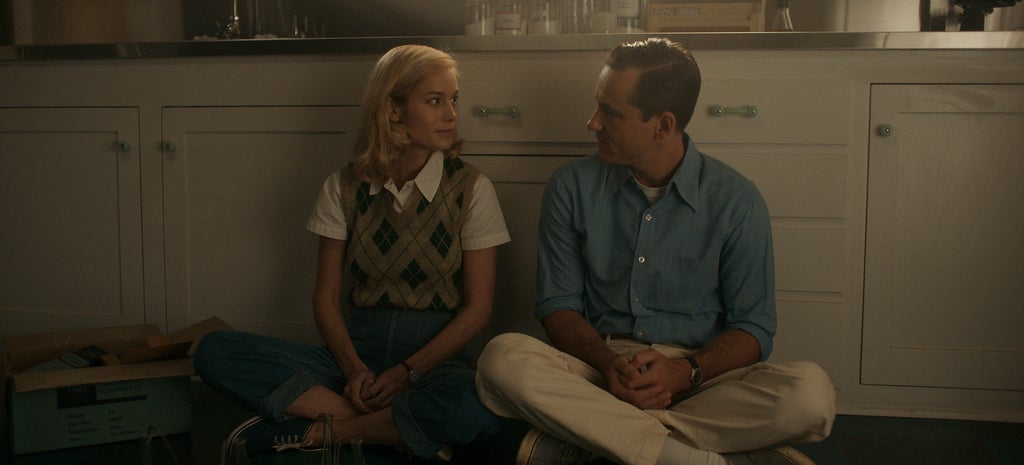 "I love vests on her and a lot of the scientists did wear a vest underneath their lab coats," says Gordon-Crozier, who hunted through the boys section of thrift stores and costume houses for the look. "It does bring interest and texture to a bland white palette. But especially for her, it's unique and you don't see a lot of women wearing them [at the time." Plus, Gordon-Crozier imagined that Larson's character would shop secondhand (an activity that began gaining in popularity in the mid-'50s), which fits the scientist's pragmatic values and tight budget. "That was my backstory to her choosing her garb," says Gordon-Crozier.
After begrudgingly accepting to host a cooking show, Elizabeth struggles in a studio-mandated pink floral dress, featuring a capelet that restricts her hand movements and a frilly Pepto Bismol-hued apron during dress rehearsal. The later gets ditched when Elizabeth points out that "a lab coat has more surface area than an apron."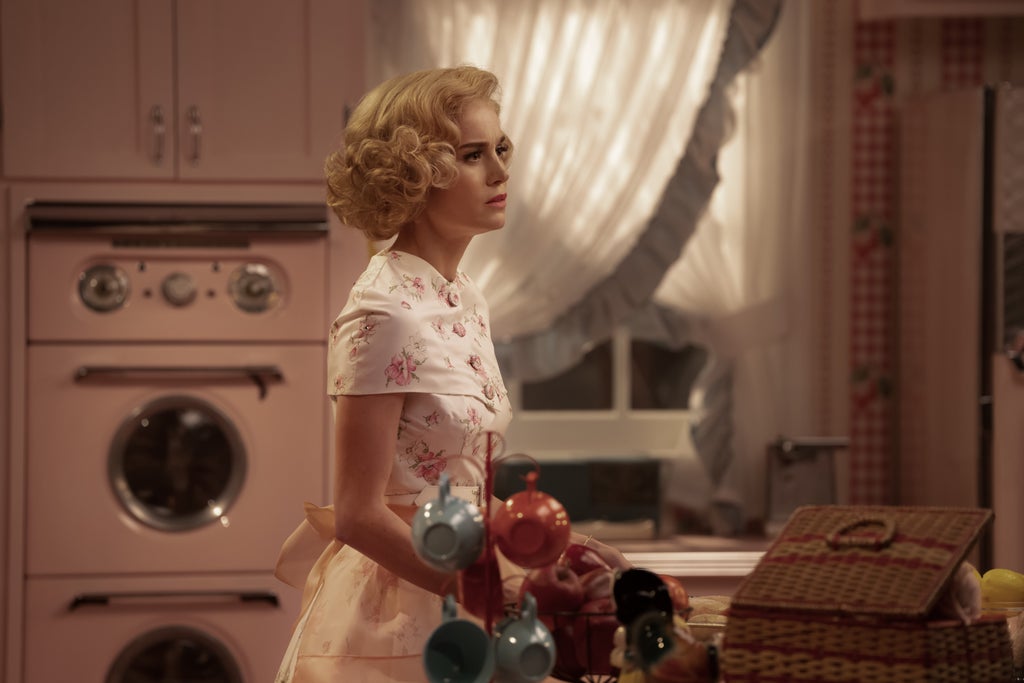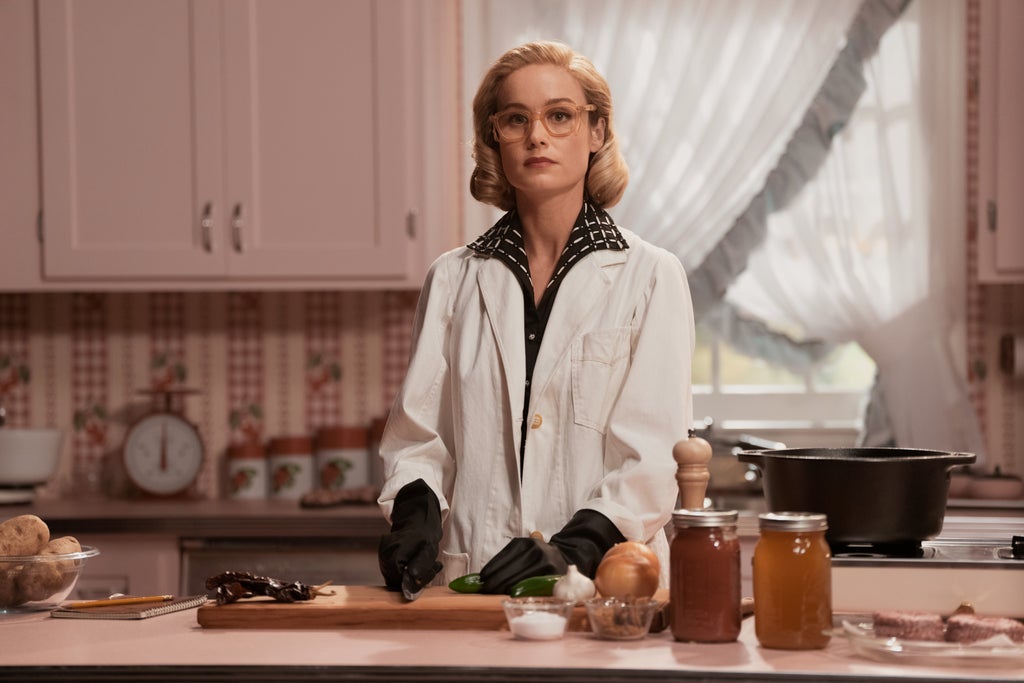 As the show goes on, like its wearer, Elizabeth's trademark apron-alternative undergoes an evolution, leading to the aforementioned bedazzled style, which bookends the series. For inspiration, Gordon-Crozier looked to the all-white haute couture room of the "Christian Dior: Designer of Dreams" exhibit. "It's so beautiful. All these [test garments] are different shapes and silhouettes, but they're all in one color palette," says Gordon-Crozier. "That really gave me the idea to do these couture lab coats for her."
The varying silhouettes of lab coats boast interchangeable and modular capabilities that even a non-fashion-minded character like Elizabeth would appreciate. For instance, the New Look-esque cinched-waist jacket features removable paillette-embellished collars (with coordinating sequin belts) in green, blue, and black. "We started embroidering her initials to give it more personalization," says Gordon-Crozier.
In the finale, Elizabeth urges an audience member to follow her ambitions while looking commandingly chic in a longline monogrammed blazer-esque lab coat, with a silk chiffon scarf threaded through the lapels. "That was everyone's favorite coat," says Gordon-Crozier, who took inspiration from an early-'60s jacket with a "big grommet" on the collar. "You could tie the scarf, so many different ways as well, or put another color scarf through it. It's very versatile, so that was the fun of it, too."
The elaborate experimentation with her previously stark work attire also represents Elizabeth reaching a turning point where she can finally take a breath and revel in her accomplishments. "As a woman who was trying to blend into the background at work, she's now able to peacock and have fun with it," says Gordon-Crozier. "She can appreciate fashion within its restrictive form of the lab coats. We just wanted to show that she has a lightness to her as well."
The result is a feast for the eyes.
Lessons in Chemistry airs on Fridays on Apple TV+.
Like what you see? How about some more R29 goodness, right here?
Fashion In 'Priscilla' Tells A Coming-Of-Age Story
Why Plaid Is Film & TV's Go-To Look Right Now
The Meaning Behind Barbie Costumes




Source link