Disclosure: The Lingerie Addict editorial team purchased this item for the purposes of this review. All opinions are my own.
DTC lingerie brand Lively came onto the market in 2016 with athleisure-inspired basics, quickly gaining notoriety for their no-frills bra and panty sets advertised on social media. Today, they still embrace the same pared-down Millennial-friendly aesthetic, but they're no longer a start-up. Wacoal purchased the brand for $85 million in 2019.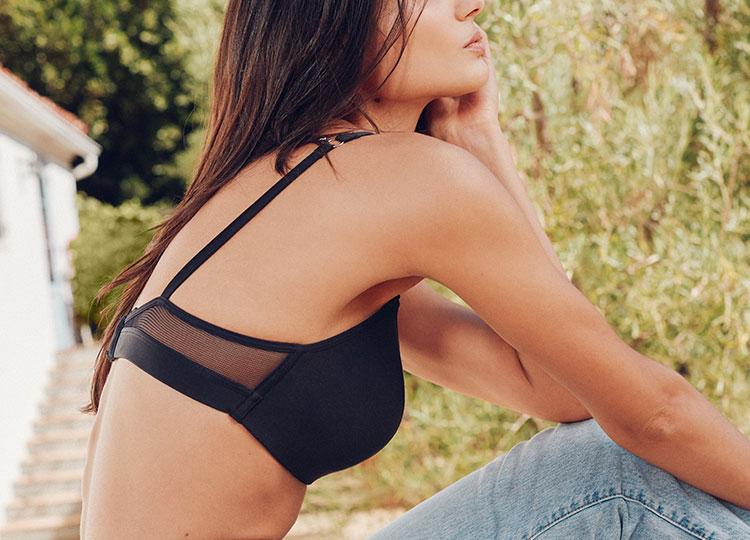 With wireless foam bras, simple triangle bralettes, and sporty style details, Lively lingerie speaks easily to the wave of young bra-wearers who hate extra bows, frills, and padding. The brand makes sizes 32A through 40G (although G cups are only available in one minimizer style, at the time of this review's publication).
While a few Lively bras include an underwire, most are wire free. I rarely wear structured bras anymore, so any brand focusing on wire-free lingerie is one I want to try. For this review, I selected their Palm Lace Busty Bralette, designed for D-DDD cups, in the "Toasted Almond" color.
Lively's DD+ Cup Bralettes
This bra feels pretty well priced for the construction and material quality. The back closure has three rows of two hooks. The shoulder straps are the same width as the standard bralette and fully adjustable with a gold slider. Powermesh lines the the palm-inspired lace cups, and thin foldover elastic runs around the edges. Lively says their DD+ bralettes also feature a "wide elastic band," but it appears to be the same elastic band used in their core sized bralettes.
The biggest (and perhaps only) functional difference between Lively's "Busty" bralettes and their core size bralettes is the side sling. This inner piece of fabric is designed to keep your breast tissue away from your underarms and give you more support. I love a good side sling!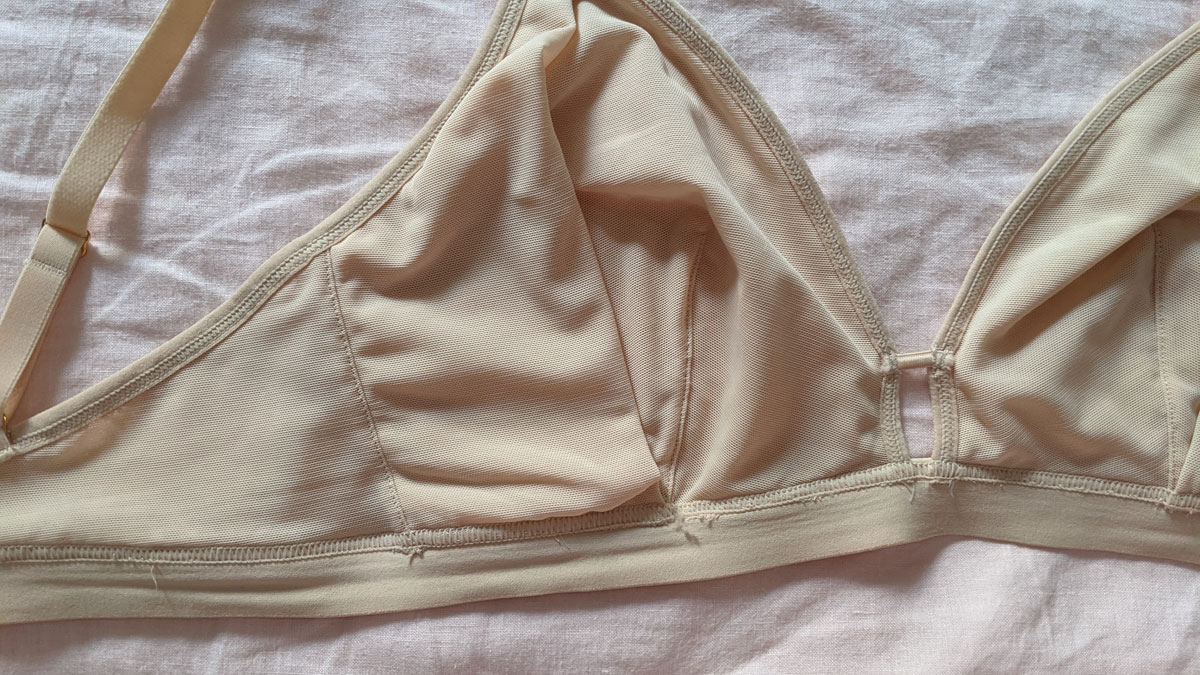 But this sling is weird: It's made up of four thicknesses of fabric. It's hard to tell without literally cutting the bra apart, but I think there is a double layer of tulle, mashed between an outer layer of folded powermesh. I've never seen this before, and it's…strange. I think it would make a lot more sense if they simply used one type of semi-stable fabric here.
Fit
My regular size right now is a 32F or 32FF UK, but I often wear sister sizes for comfort and go up in the band. Since it fits my sister size 36DD, I decided to try a size 2.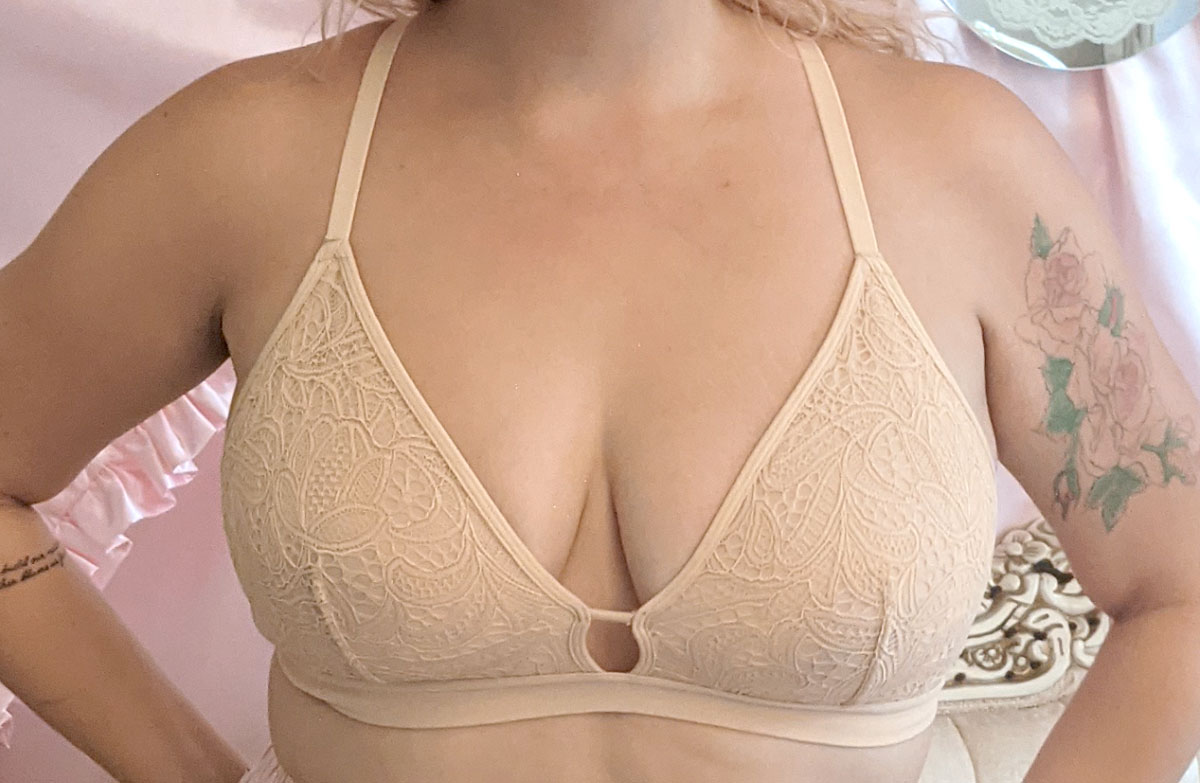 I'm at the upper end of this size, and it shows in the cups: they cut in just a tiny bit in the front. On the other hand, the band feels great for my 32″ ribcage. I think a true 36DD would find this band way too snug.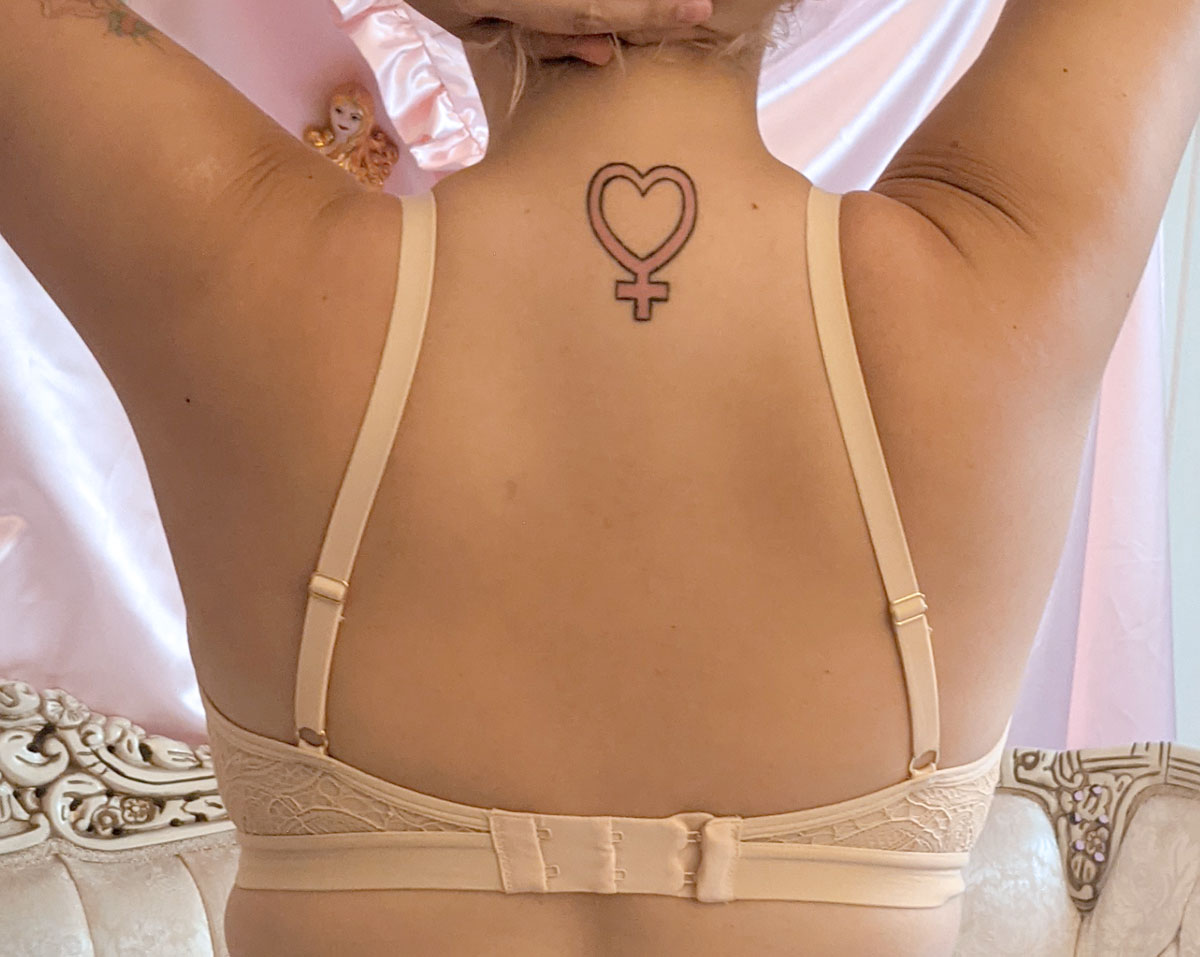 I recommend purchasing a Lively Busty Bralette in one or two sister sizes up. You could also try your +4 size.
The support is about what I would expect from a standard core-sized triangle bralette. It's comfortable enough, but doesn't give a ton of lift or extra shaping.
Since this bralette has a thin elastic band and no center gore, the tiny piece of elastic sewn between the two cups helps keep your breasts from falling out the center. To me, this reads like a shortcut to a better fit. I wonder if it was added late, instead of adjusting the pattern's fit. But it's a cute design detail and it works, more or less.
Unfortunately, there's one part of this bra that does not work, and that's the band. The elastic band is attached to the rest of the bra using a coverstitch. This stitching captures the raw edge of the mesh and lace behind the elastic. It's the logical way to connect these pieces.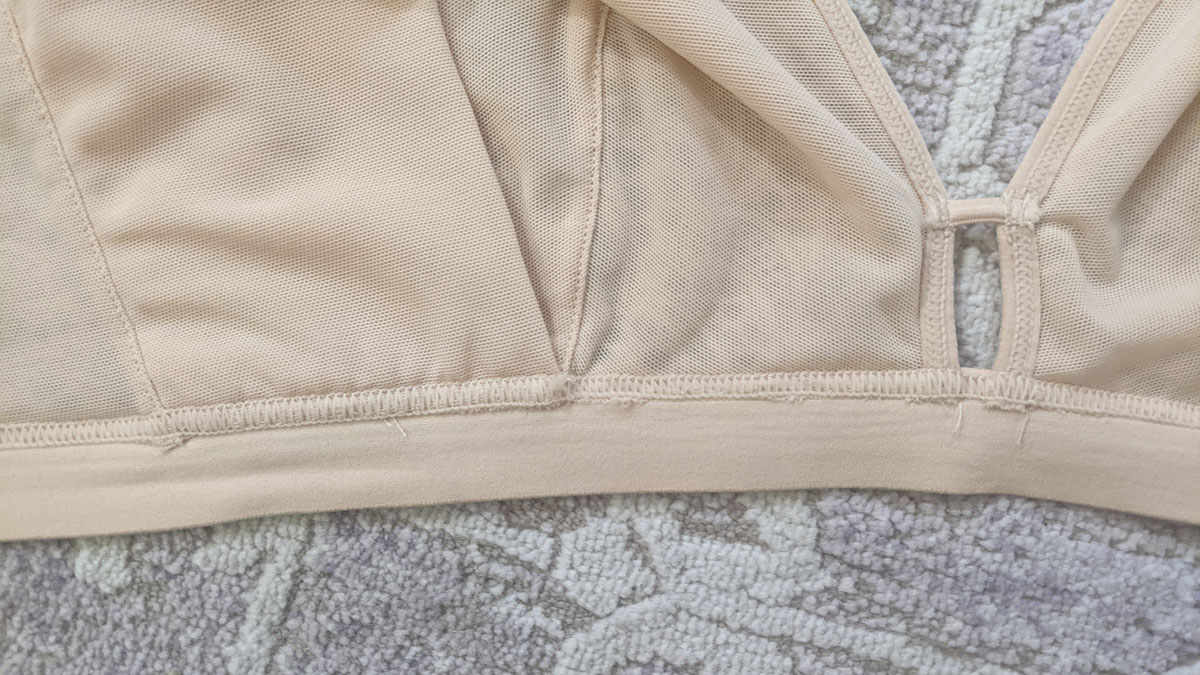 However, the elastic is stretchier than the rest of the bra, so it stretches less where it's sewn to the mesh and lace. Due to those thick, stable side slings I mentioned earlier, this coverstitching has to capture six layers of fabric at some points! This causes a thick row of stable, unstretchable bulk, right under your breasts.
Because of this mismatch in flexibility, my first 8-hour day in this bralette gave me sore red welts that lasted for hours. These problems would likely be solved with a firmer, wider elastic, and a side sling made of an appropriate fabric.
A firmer elastic band might have better recovery, as well. As you can see in the first flatlay, the elastic looks stretched after just one wear. (Parade, another DTC brand, had a similar issue with their underwear elastic.)
Final Thoughts on Lively
At under $50 and available in discounted multi-packs, this is a relatively affordable option for a DD+ bralette. I like its simple, modern, androgynous styling.
However, the engineering behind the bra means I won't be buying more of these, and I wouldn't recommend it. The four-thickness sling, the flimsy elastic, the incompatibility between the materials in general… It just doesn't work for me.
I'd be curious to try a few of Lively's cup-size bras, wired or not. But I won't be buying more of their elastic band DD+ bralettes.