Disclosure: This bra was purchased by The Lingerie Addict for the purpose of this review. All opinions are my own.
Cuup is a direct-to-consumer bra start-up making unlined bras up to an H cup (or UK FF). Their collection is based around three standard bra styles: one eponymous "Balconette," two plunges (the "Plunge" in mesh and the "Triangle" in microfiber), and two demi cups (the "Scoop" in microfiber and the "Demi" with spacer fabric cups).
The brand claims to have "[thrown] out a century-old sizing system" and used "real bodies" to create their sizes. Like a lot of bra start-up marketing jargon I've read lately, I don't really know what this means. They don't have their own sizing system. Like dozens of other brands, they use a (century-old) European bra size chart.
My usual size is a 32FF, which translates to a 32H in the Euro sizes used by Cuup. However, their fit quiz told me to buy a 36F, which is my sister size. Since there are no standard measurements for bra sizes and Cuup claims to have reinvented bra sizing, I took the plunge, so to speak, on a Plunge Bra in size 36F.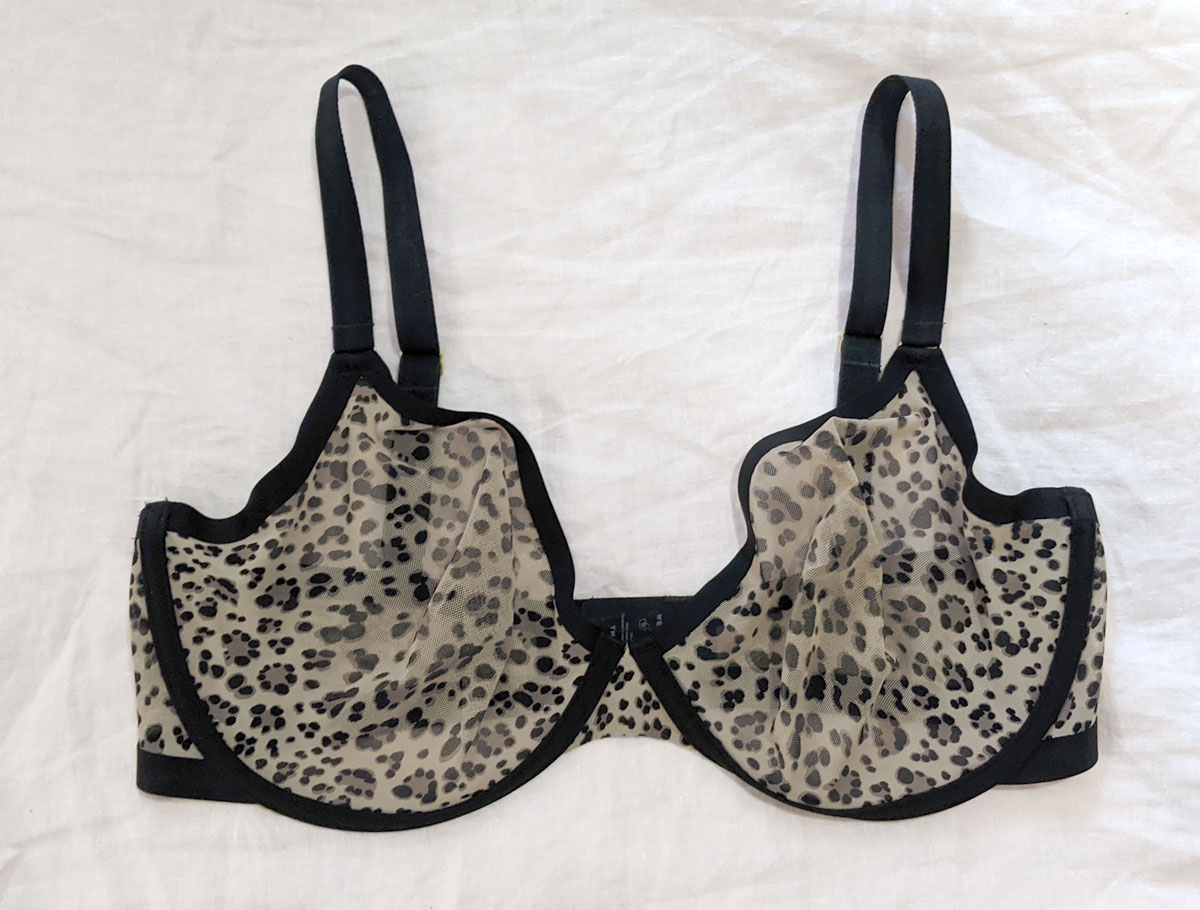 The Bra
Cuup's The Plunge was suggested for my breast shape. It's made simply: one layer of heat-shaped mesh for each part, plus a stable tulle underlining behind the gore. Larger cup sizes have no extra reinforcement or cup seams. The website calls this fabric "power mesh," but it's thinner and less stable than most power mesh I've worn.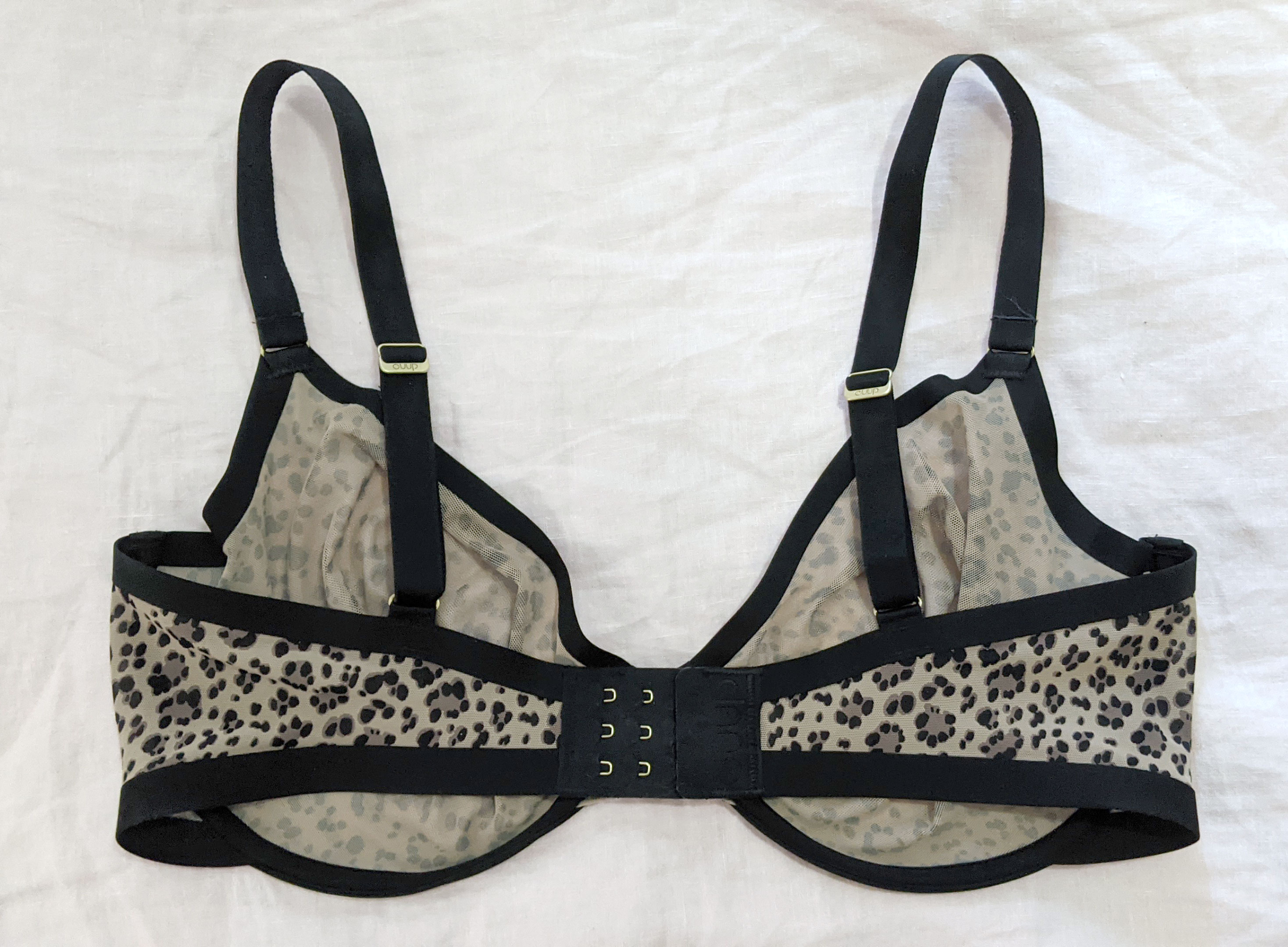 The entire bra is finished with what seems to be a heat-set fold-over elastic. This reduces bulk and makes its edges super smooth against your skin.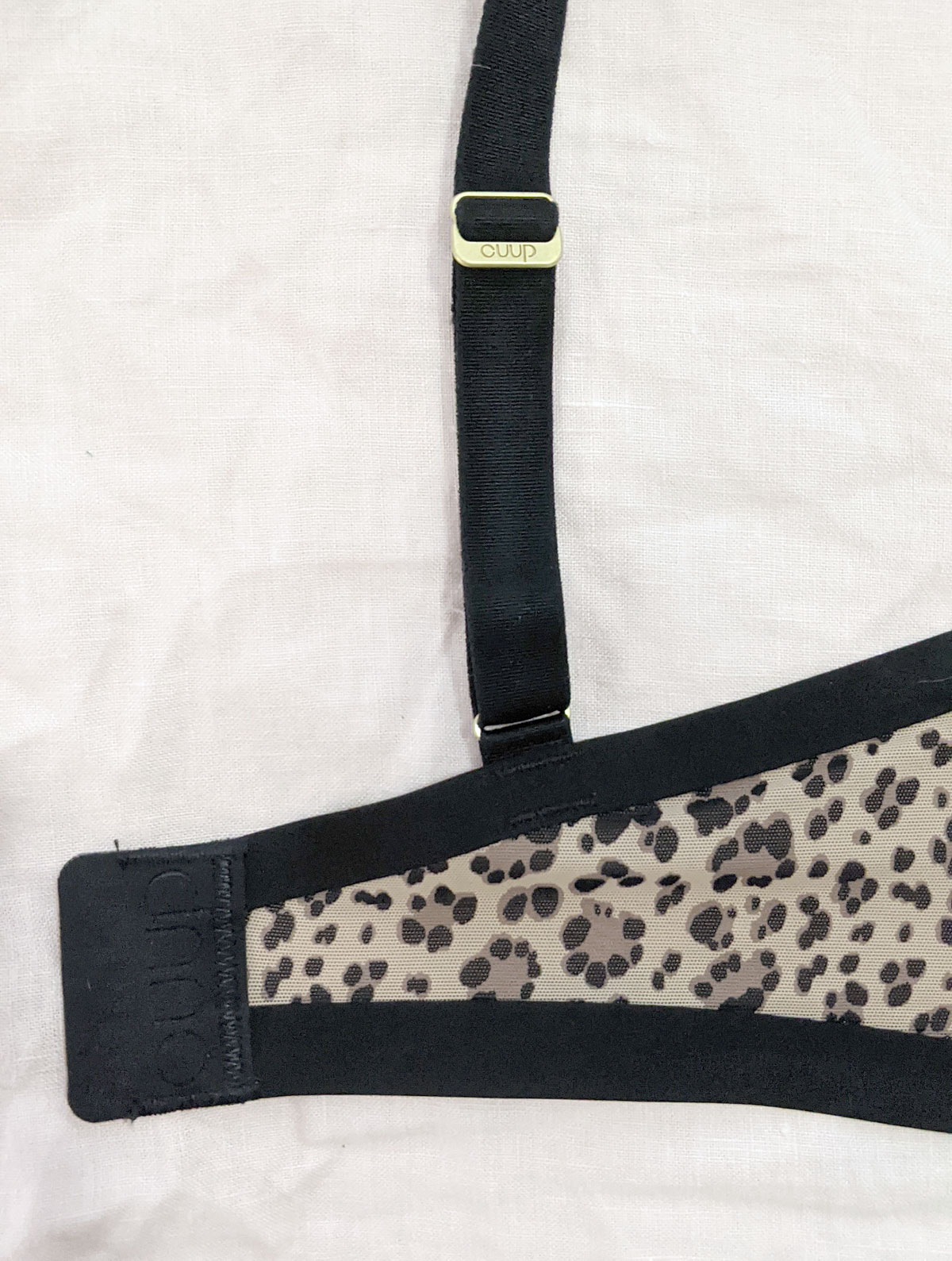 The straps are supposedly made with "patent pending" gold hardware, which…looks and acts exactly like a regular bra slider. The back hook-and-eye panel has extra rows for larger cup sizes, and is made of a stiff, flat material, echoing the elastic edging and assisting with an invisible silhouette under clothes.
Overall, the quality is in line for what I'd expect at this price point. It feels sturdy and looks nice.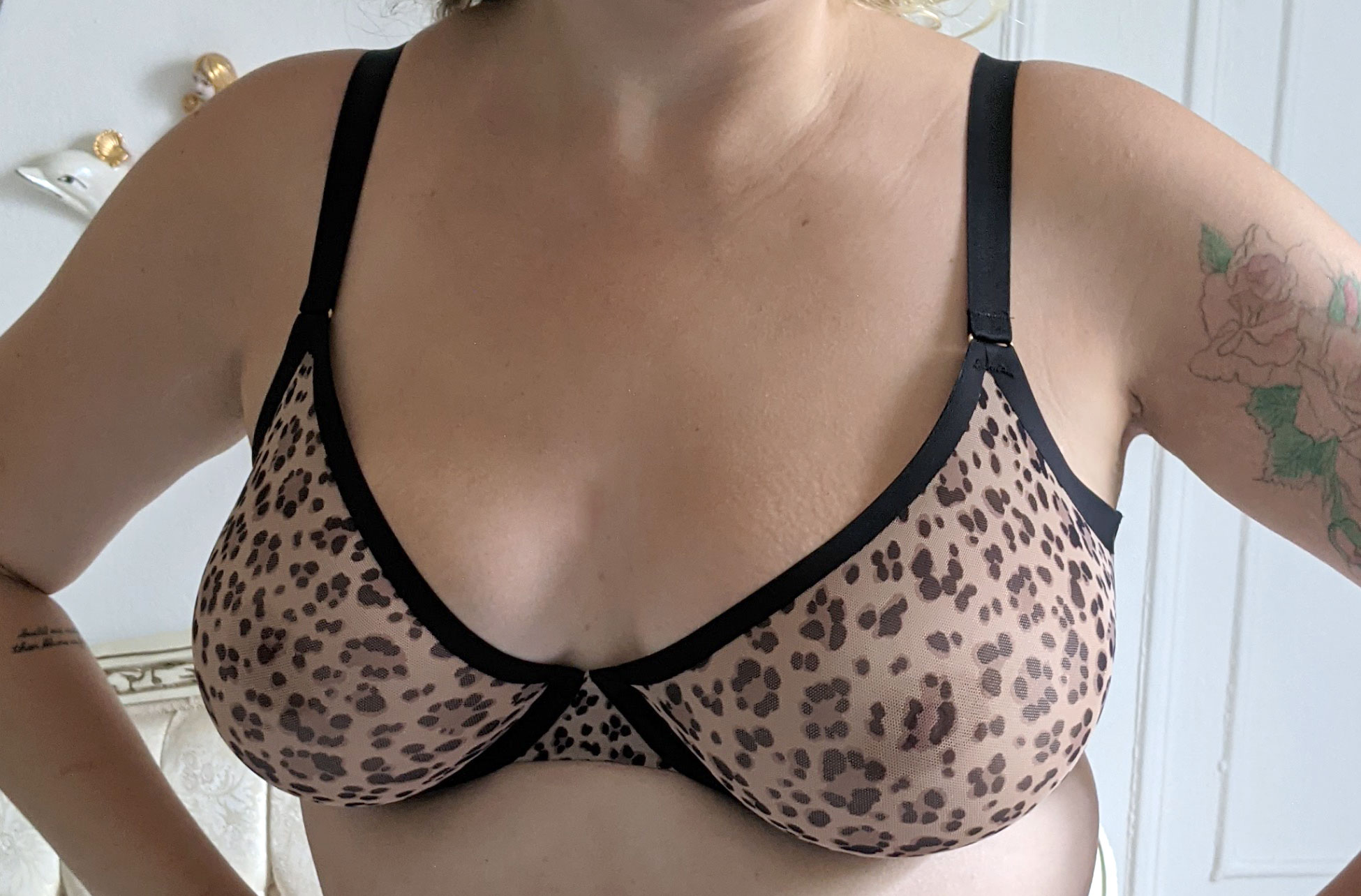 The Fit
Although I would usually try a 32H off the rack, I used Cuup's fit quiz advice and bought my sister size of 36F. And it fits exactly how I would expect a 36F to fit me.
The cups are fine, and the band is not as snug as I would prefer. However (and this is key!): the smooth, stable, flat elastic edges keep the band from riding up. So while it doesn't give the extra support of a smaller band size, it won't slide around in the same way a usual 36 would. I'm into it.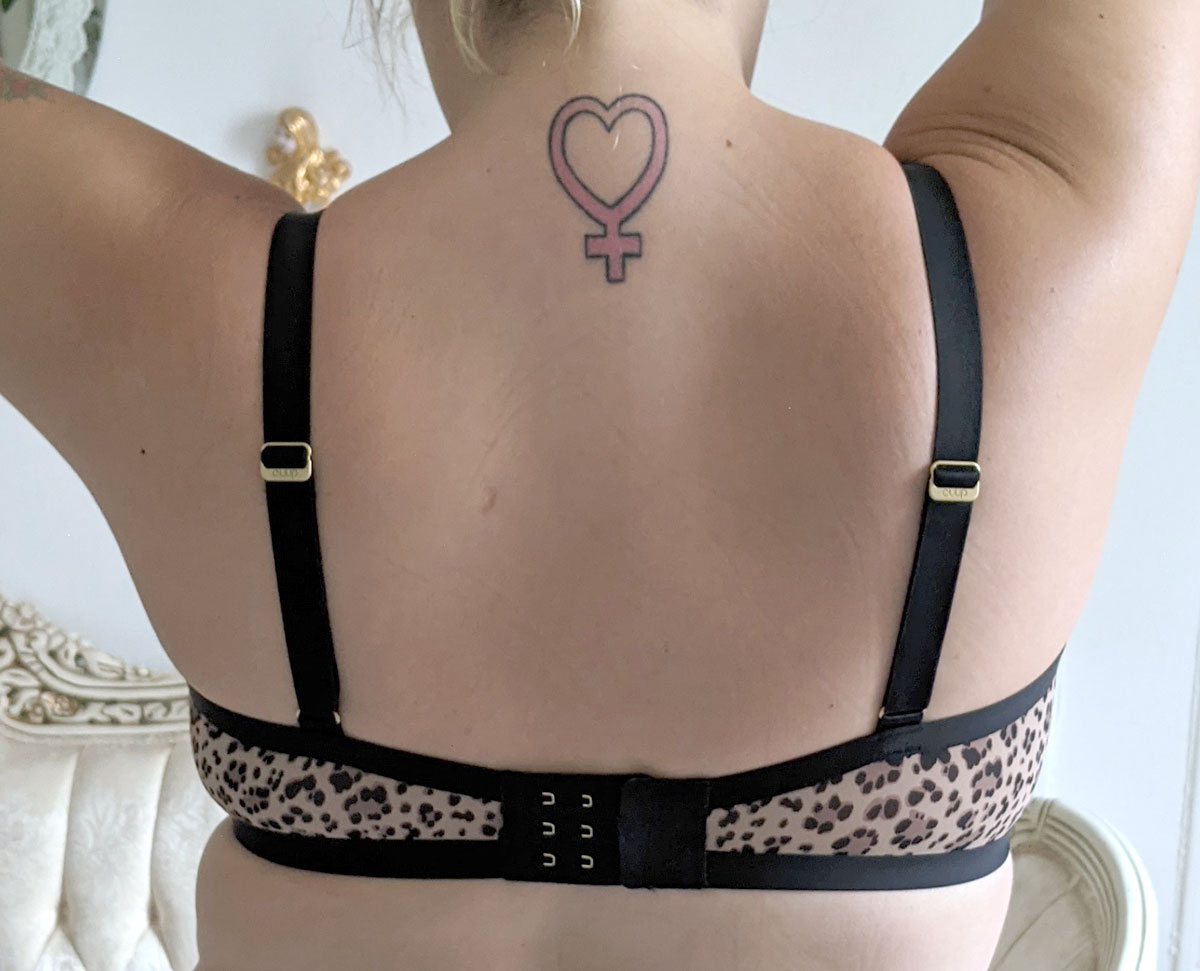 Most full bust bras have extra engineering to lift up heavier breasts. This bra has none. The single layer of mesh across the cups give a "bralette" feel (and look) to this garment. The cups will not give you any support.
The underwires are pretty weird, though. They are specifically made to be extra flexible, which I guess sounds like a good thing, if you hate underwires. But as many TLA readers know, underwires are magical when they fit right. And the flexibility of these wires means they get pulled way, way back when I put this bra on.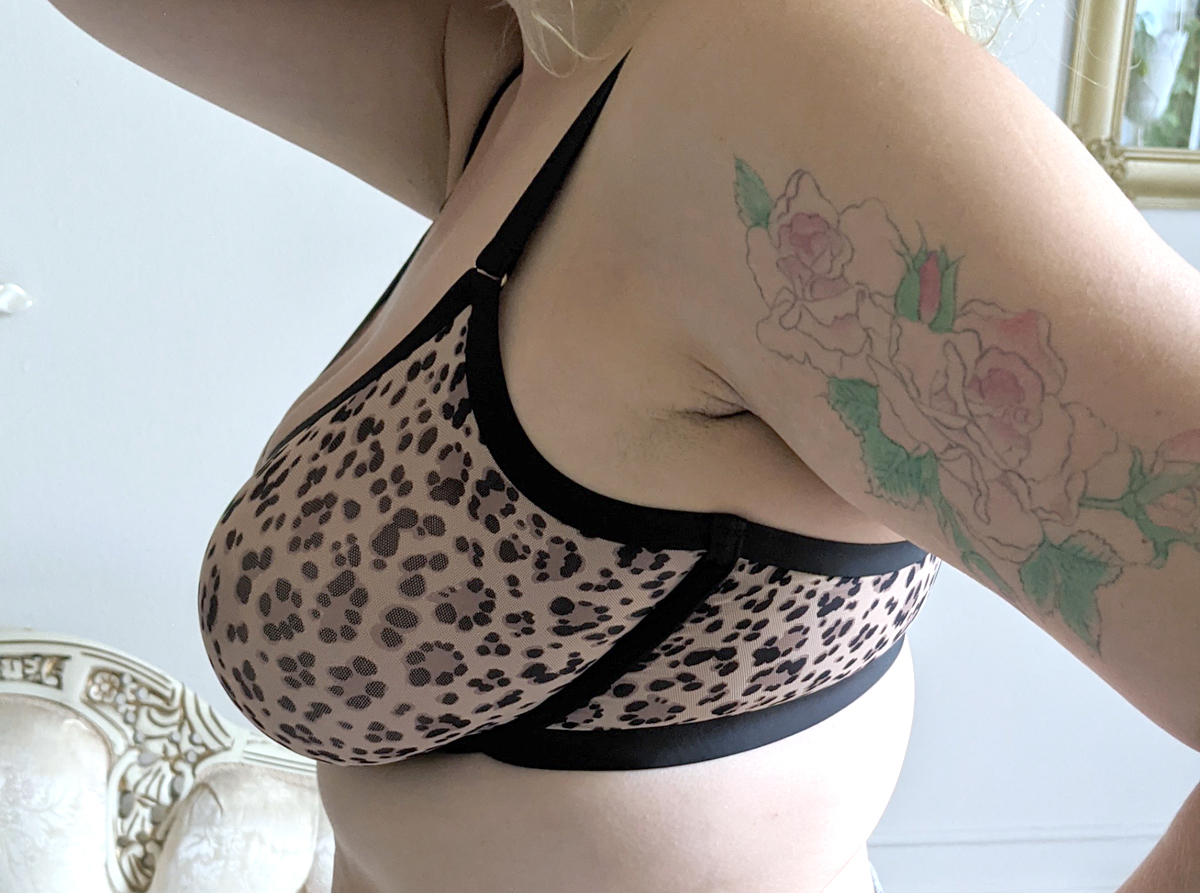 When I wear the Plunge bra, the underwire goes past my breast tissue edge. It goes past my armpit. It even goes past the side seams on my clothing. This has never happened to me before, and it's definitely weird. If I sized down in the band, I imagine this wire would get pulled back even further.
However, because the wire is so flexible, it's not uncomfortable. It's also low enough to not poke into my armpits.
But it would cut in on close-set breasts, so I really only recommend this bra if you have average- to wider-set breasts. If you're fuller busted and used to a projected, front-facing fit, with your underwire hugging your breast tissue, you might hate it.
I don't know if Cuup "reinvented" bra fit. But as someone who doesn't want a ton of support these days, I like how they've combined stable finishings with stretchy fabrics for easy wear.
This bra so comfortable, like wearing your favorite bikini top all day. If you've gone braless over the pandemic and are looking for a comfy underwire bra to wear back to work, this no-frills style is a great solution. I would recommend trying the size suggested by Cuup's fit quiz.
Overall Thoughts
The Plunge is described as "the most supportive 'non-bra' bra you'll ever wear." I totally agree that this is a "non-bra," in the best way. It doesn't do much heavy lifting. But as a fuller busted person who doesn't often want a lot of support, I really like it!
However, I don't think it's very supportive. Some of my full bust bralettes, like the Cosabella Curvy bralette, give better support than this underwire bra. I personally would rather wear a bralette than a Cuup bra, but this is a good solution if you wish your favorite bralette had an underwire, or like the feel of a classic bra with a more relaxed silhouette.
It's difficult to find bras in fuller sizes without extra seams or engineering, for many good reasons. However, if you're looking for a super simple underwire bra with just a bit of support, I highly recommend trying Cuup.