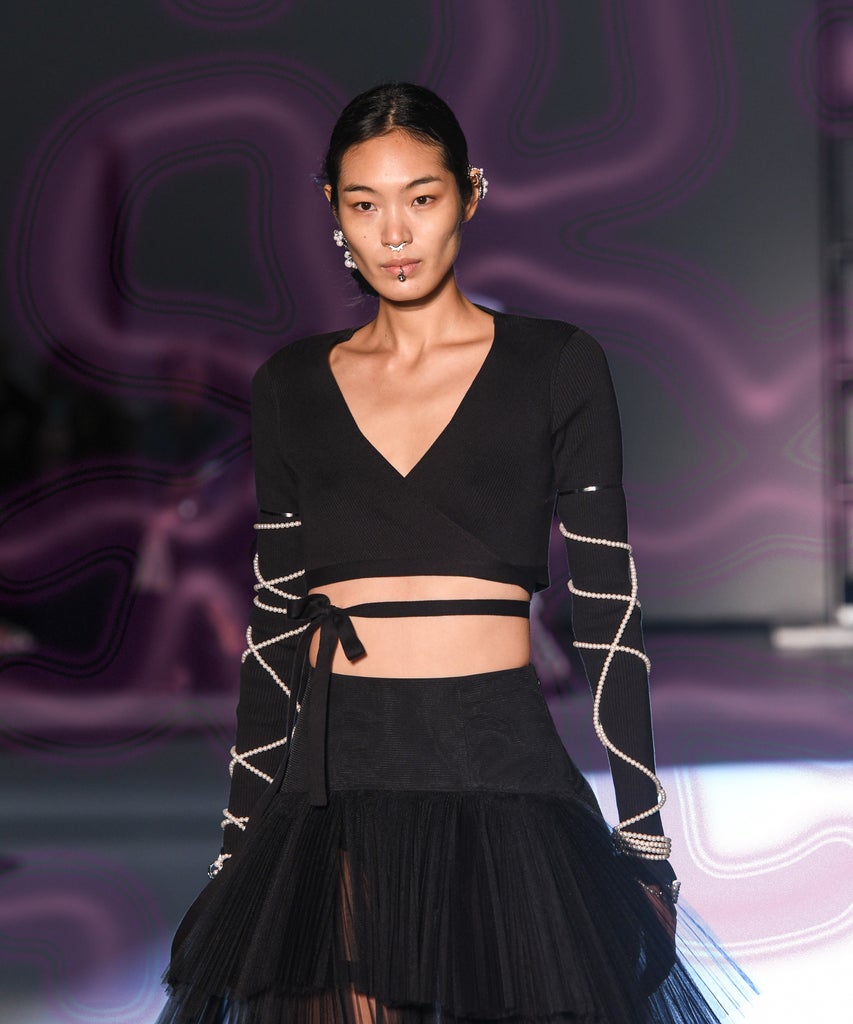 Last September, during New York Fashion Week, New York City Ballet principal dancer Tiler Peck closed the Adeam fashion show with a surprise performance. Her fouettés followed a lineup of asymmetrical leg warmers, tulle-decorated skirts, and soft pastels, a collection that the brand's designer Hanako Maeda says was inspired by "the idea of ballet as a performance art and as a sport."
"The collection combines the romanticism and couture-like craftsmanship that you see in ballet costumes with a more modern, sporty mood," she explains to Refinery29. "I also added a touch of rock 'n' roll edge with the accessories." 
As a former dancer, I know all too well the fantasy side of ballet — Christmas season Nutcracker performances, frothy tulle skirts, pastel-hued pointe shoes, etc. — which has long served as inspiration for fashion. Designers, ranging from Claire McCardell in the 1930s to John Galliano in the late '90s, have included ballet elements in their collections. In more recent years, names like Maeda, Esteban Cortázar, Raf Simons, Christopher John Rogers, and Wes Gordon have created costumes for ballet companies like the New York City Ballet. Meanwhile, products like Jacquemus' ballet slides and Miu Miu's satin bow ballerina flats have become some of the most popular items of 2023, according to Lyst.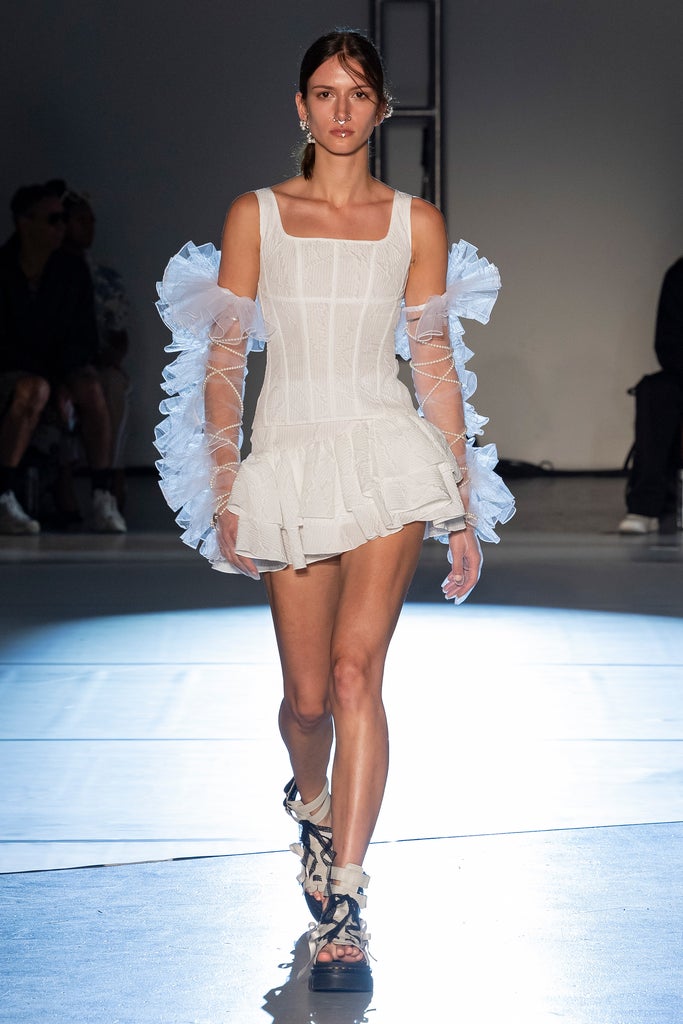 The most recent collection to come out of the recent balletcore craze, Reformation x New York City Ballet is inspired by Jewels, a show choreographed by the ballet company's founder George Balanchine, and includes pieces suited for ballerinas, as well as guests looking to attend a ballet performance. "We leaned into classic ballet-inspired elements that emulate traditional practice attire, including bodysuits, wrap sweaters, silk skirts, leg warmers, and, of course, ballet flats," says Lauren Caris Cohan, Reformation's chief creative officer. The campaign — shot at New York City's Lincoln Center, where the company performs — features models sporting leotards and sweaters, paired with leather jackets, looking like they've just come out of rehearsal and are ready to loosen up their ballet buns.
The latter is interesting to note because, while there have been plenty of literal ballet uniform interpretations in the past, what's different about the recent display of balletcore — a trend that's dominated fashion for the past two years and only continues to grow — is the rebellious side that has been reimagining the ballet fashion stereotypes.
On TikTok, the balletcore hashtag has over one billion views, with creators wearing everything from ballet flats and leg warmers with jeans to outfits inspired by films like Black Swan and Center Stage that employed fashion as a tool to express opposition to ballet's rigid standards. On the runways, designers like Givenchy, Simone Rocha, and Christian Siriano have reimagined the ultra-feminine dance staples into darker, edgier pieces. Siriano, for example, reworked ballet-style pink ribbons on club-ready mini dresses and added ballet tights underneath wide-leg trousers for his spring 2024 collection.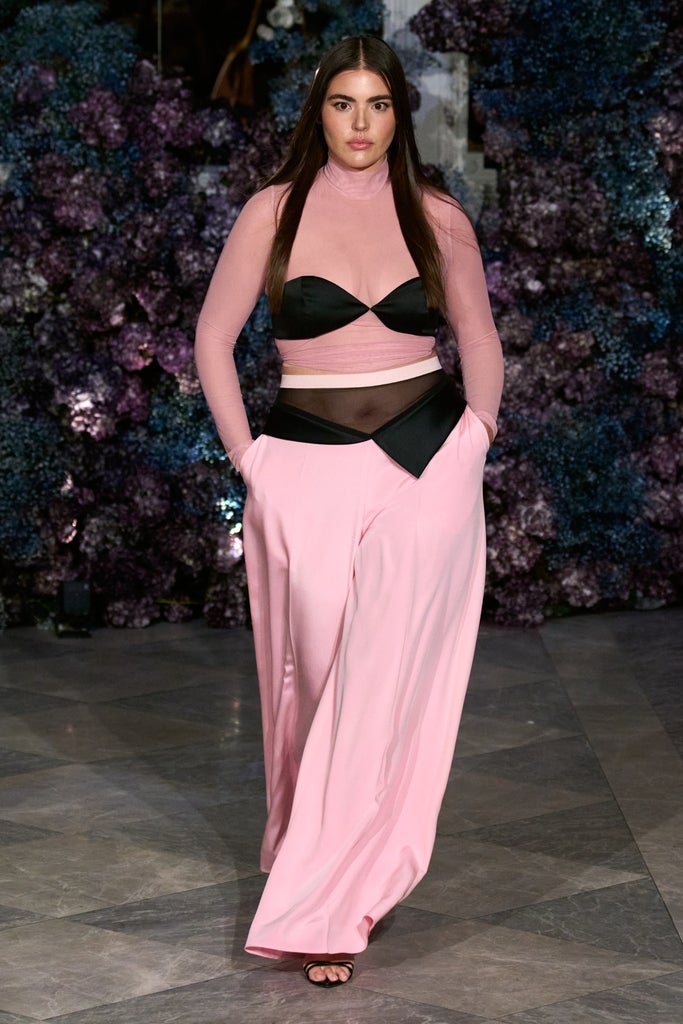 "I think there's this desire for people to want to tap into the fantasy of ballet," says Caroline Reznik, a Milan-based fashion designer, who quit her career as a ballet dancer at the Australian Ballet to work in fashion. "But they also see the off-duty ballet dancer as being something that can be adapted into their own wardrobe because of the functionality that comes with it." 
Reznik's work takes from her own desire for creative and personal expression outside her ballet studio. "The way that I explore dance archetypes in my work is kind of that rebellion that I grew up with," she says. "I was always longing to go against the grain because there are so many standards that were once in place to be recognized at the company." In turn, Reznik, who has dressed artists like Doja Cat and Rosalía, shies away from the typical balletcore styles and silhouettes, while still employing some of its defining elements, like tulle and bodycon knits. For resort 2024, she featured a tulle skirt with a studded leather harness, as well as a cut-out leather bodysuit with beaded fringe details. "I always had this fire in me that was like, 'I want to do the opposite, but still be like within this realm,'" she says.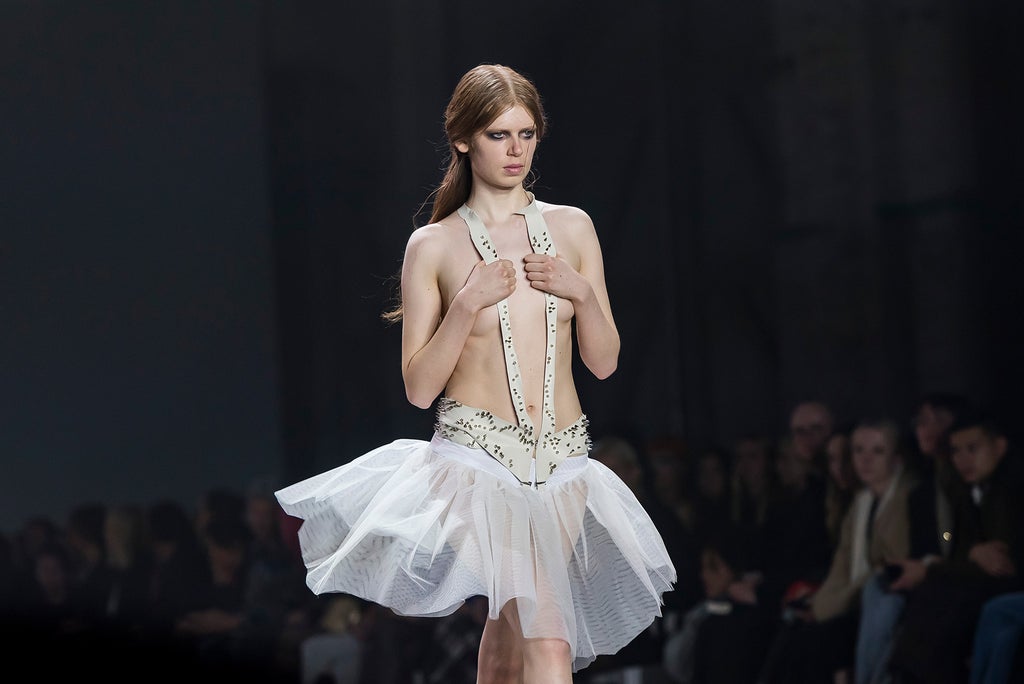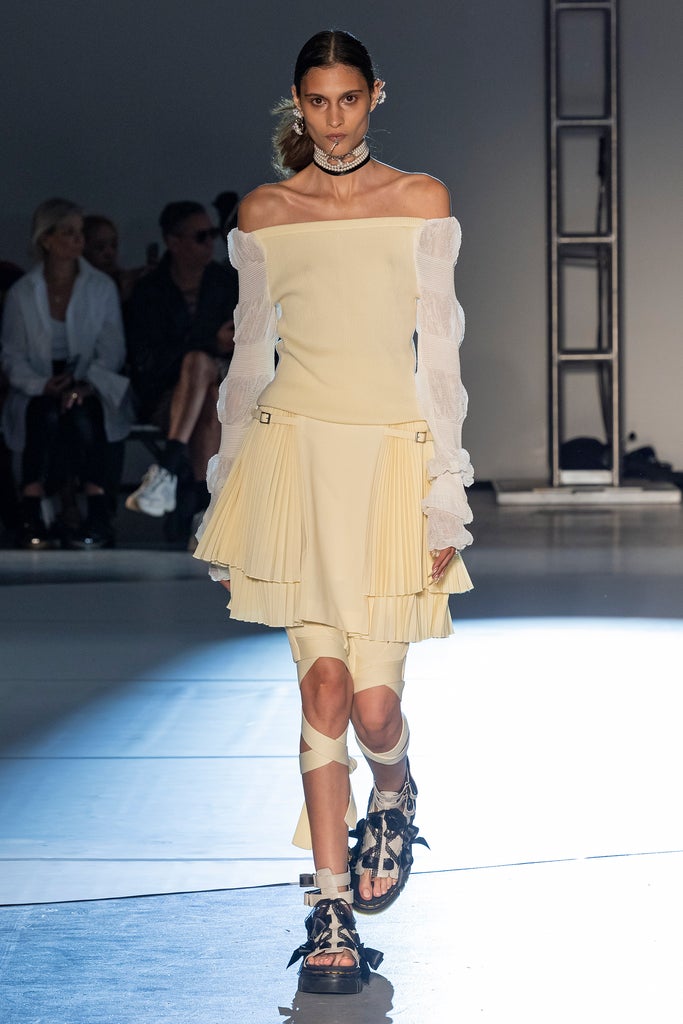 That rebellious spirit is also something that Maeda wanted to celebrate in the Adeam's spring/summer 2024 collection. She used materials like floral organza and pastel-colored tulle as nods to ballet costumes but included tailored suiting, punk-inspired mini skirts, and sheer opera gloves to contrast the stage-ready details. This juxtaposition is also inspired by Maeda's own views of ballet's traditional ideals. "I think ballet culture has progressed in a way that feels more empowering, and I also feel that there is more fluidity in the standards of beauty," she says. "The athletic prowess that you see in ballet movements is very powerful and inspiring."
As more brands jump on the balletcore trend, which character will you embody: principal dancer or ballet dissident? It's up to you. 
At Refinery29, we're here to help you navigate this overwhelming world of stuff. All of our market picks are independently selected and curated by the editorial team. If you buy something we link to on our site, Refinery29 may earn commission.
Like what you see? How about some more R29 goodness, right here?
Reformation's Latest Collab Is Made For The Ballet
24 Fresh Takes On Classic Ballet Flats
A Former Dancer's Guide To Balletcore


Source link