Disclosure: These items were purchased for me by The Lingerie Addict to review. All opinions are my own.
Direct-to-Consumer (DTC) lingerie startups abound these days. But are any of them actually disrupting the underwear industry?
Today, I'm reviewing three brands claiming to do things differently: Seamless underwear by EBY, super soft modal knickers from MeUndies, and colorful briefs made from recycled fibers by Parade.
Will one of these brands become your new everyday underwear obsession? Time to find out.
EBY
Co-founded by philanthropist Renata Black and actress Sofia Vergara, EBY designs and sells ethically-made seamless underwear with a mission. But it took me a while to figure out what the heck the mission actually is.
The EBY website has paragraphs of "empowering" copy everywhere. But if you actually read it…it doesn't really say much.
Here's what I've gathered from the internet. EBY donates 10% of their proceeds to Seven Bar Foundation (which was once known for its lingerie fashion shows featuring luxury brands like Carine Gilson and Atsuko Kudo). This non-profit organization was started in the early 2000s by Renata Black's family.
Black took over the Seven Bar Foundation in 2009 or 2005, depending on what website you reference. At that time, she started giving their funds to microfinance institutions.
Basically, 10% of EBY's proceeds go to a family foundation that donates them to outside microfinance institutions. According to Wikipedia.
In my opinion, this over-the-top marketing is a whole lot of talk around a relatively small philanthropic action. I don't even know if the 10% comes from net or gross proceeds. But this isn't a journalistic exposé, it's a lingerie review! So, on to the panties.
EBY Nude Seamless Bikini Panties Review
EBY's knickers come in sizes XS through 4X. Although my 40" hip sits in their size M, I noted the "jean size" included in the size chart and went for a size L in their Bikini instead. (I've never worn a size 6 or 8 pant in my adult life.) The L is a great fit. An M would have been too small.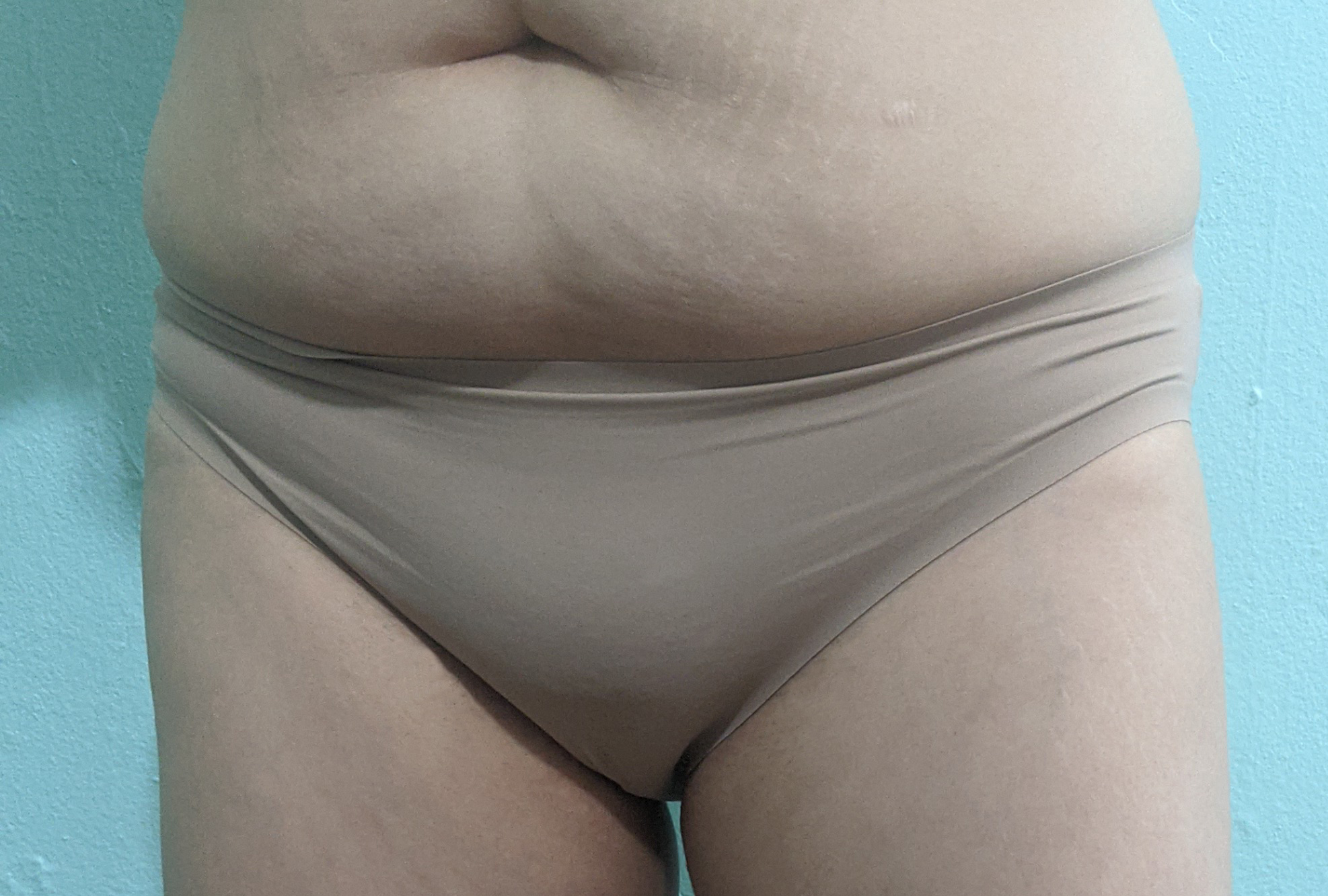 Compared to other seamless knickers I own, EBY has a lot of nice upgrades. Every seam is fused, including the edges of the 100% cotton lining. The no-slip fused waistband doesn't roll down as much as a raw edge, and feels way more secure.
I don't love the no-slip bands around the legs. They are a bit bulky, and increase the possibility of panty lines. They dig in where I have more fullness, and pucker or ruffle where there isn't enough "meat".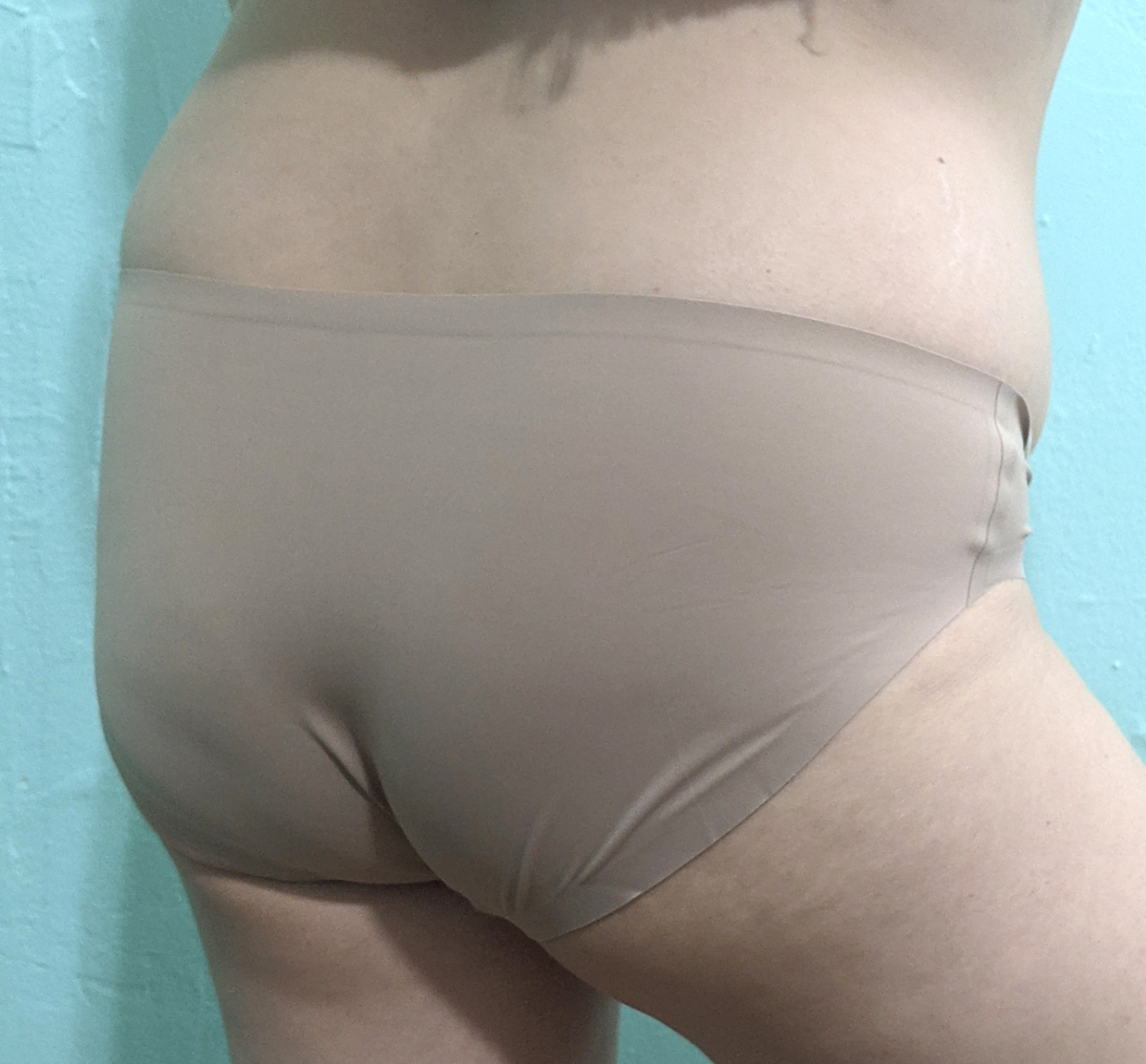 But for the price, I think these are a fantastic option. $14 for ethically made seamless underwear by a small company? Yes, please. These will probably be my new nude "under review" knickers, and I would consider buying more in the future. Hopefully, they'll take a hint from other startups and change the name of this color from "nude" to something less old fashioned and racist.
MeUndies
If you listen to podcasts, you've undoubtedly heard of MeUndies. The heavily-promoted company makes everyday underwear for both men and woman out of "MicroModal" (otherwise known as rayon).
Other than their ubiquitous podcast ads, they're best known for releasing seasonal prints that are perfect for matching your partner. In fact, they developed a fun website widget that easily selects in-stock pairs in your perfect sizes, so you can match with someone special. Cute!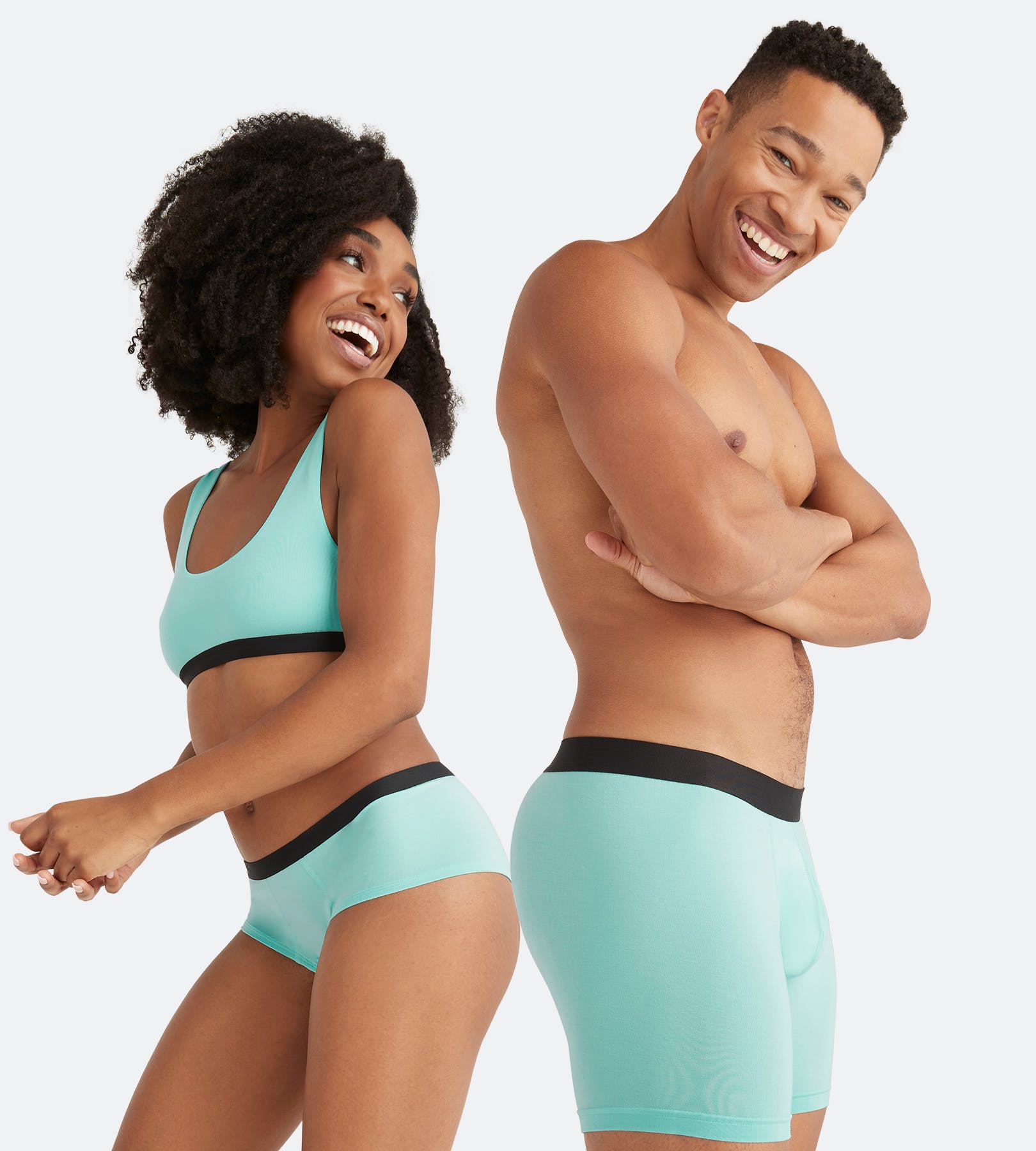 I actually tried MeUndies before, and didn't fall in love. The classic no-roll elastic they use for their waistbands isn't nearly as stretchy as their supersoft fabric, so it tends to dig in on squishy people like me. But if you size up, the fabric is too loose. It's just not ideal.
Because of that, I was really excited to try their "FeelFree" line, which utilizes the fabric itself for the waistband. And man, what an improvement!
MeUndies FeelFree Bikini Review
MeUndies' women's bottoms are available in XS through 4X. I'm wearing a size M, which is what their size chart suggested. It fits perfectly.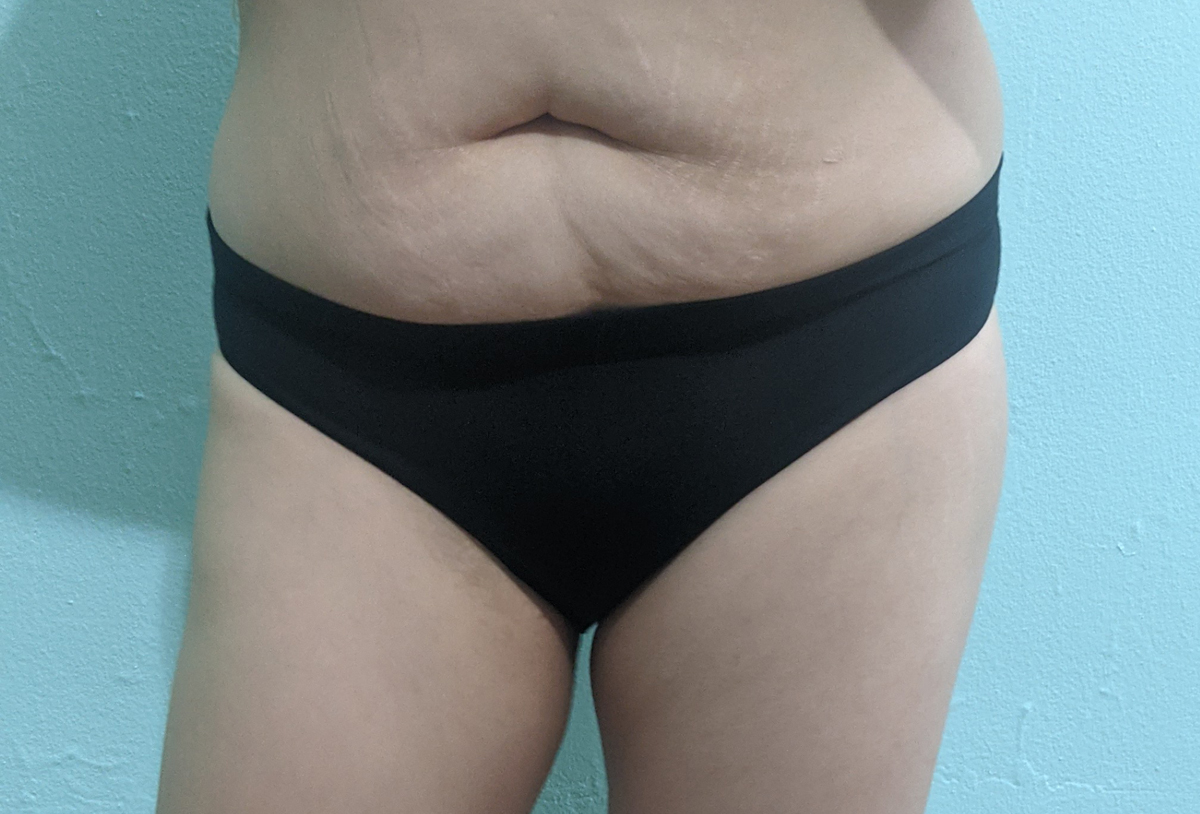 The soft waistband of the FeelFree bikini stays up, but doesn't dig in. It's a huge upgrade from their elastic waistbands. I wish they had some funky prints that didn't remind me of 90's Nickelodeon. I love a good patterned panty. I just couldn't get down with the cartoon-y prints they have right now.
At $18 with free shipping, I think these are a good value for the price, and a nice addition for your everyday knickers. Most of all, I'm happy to see them improving their styles over time.
Parade
Parade makes colorful underwear out of recycled fabrics in sizes XS through 3X. I get ads for their constantly on Instagram, but I never took the plunge… Mostly due to their previous marketing.
At the very beginning of the COVID-19 lockdown, the virus was a terrifying mystery. Thousands of people were dying every day, and Parade launched an aggressive Instagram campaign. If you posted a photo in your underwear with their #ParadeTogether hashtag and tagged five friends, they would donate $1 to Feeding America. This also featured a 10% off coupon to their website.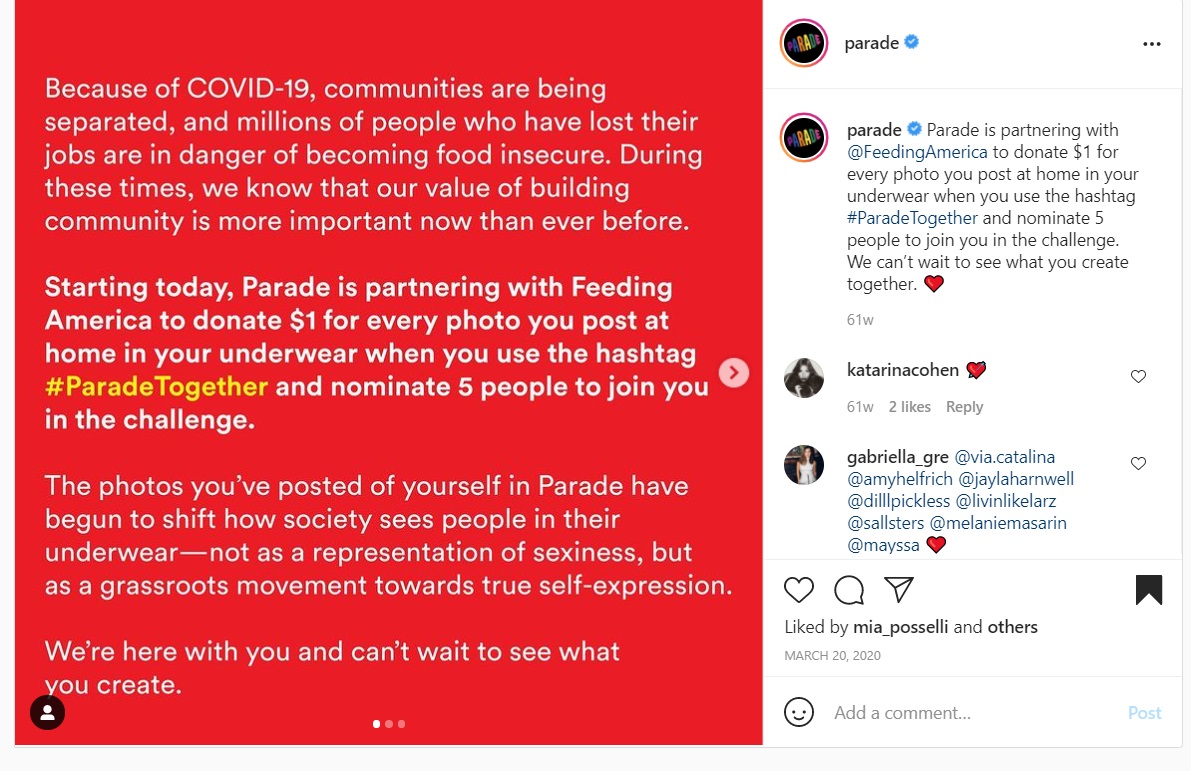 So, thousands of people were dying and losing their jobs with little government support, but Parade was like, "Market our brand for us while you're stuck at home, and we'll donate $1 to charity!" They were posting about it multiple times per day, while everyone was panic-scrolling Instagram during the first few days of lockdown. I was pretty disgusted by it at the time.
But the worst part? Anyone who called them out, publicly or privately, was blocked and had their comments deleted. I didn't engage, but I have friends who are still blocked. Big yikes.
Regardless, Parade has great colors and some cute everyday styles at very low prices. I was excited to try their $9 brief.
Parade Re:Play Brief Review
Parade was the only brand to require a minimum spend for free shipping. Since the Re:Play Brief I ordered only costs $9, that totally makes sense to me. There's no way that price could include their shipping costs for one knicker! My total including shipping for one pair was $18.
Their recycled nylon fabric is similar to the nylon-blend "no show" stretch fabric that Victoria's Secret helped popularize in the early 2000s. It has the slick feel of classic swimwear spandex, but lighter, more airy, and almost see-through.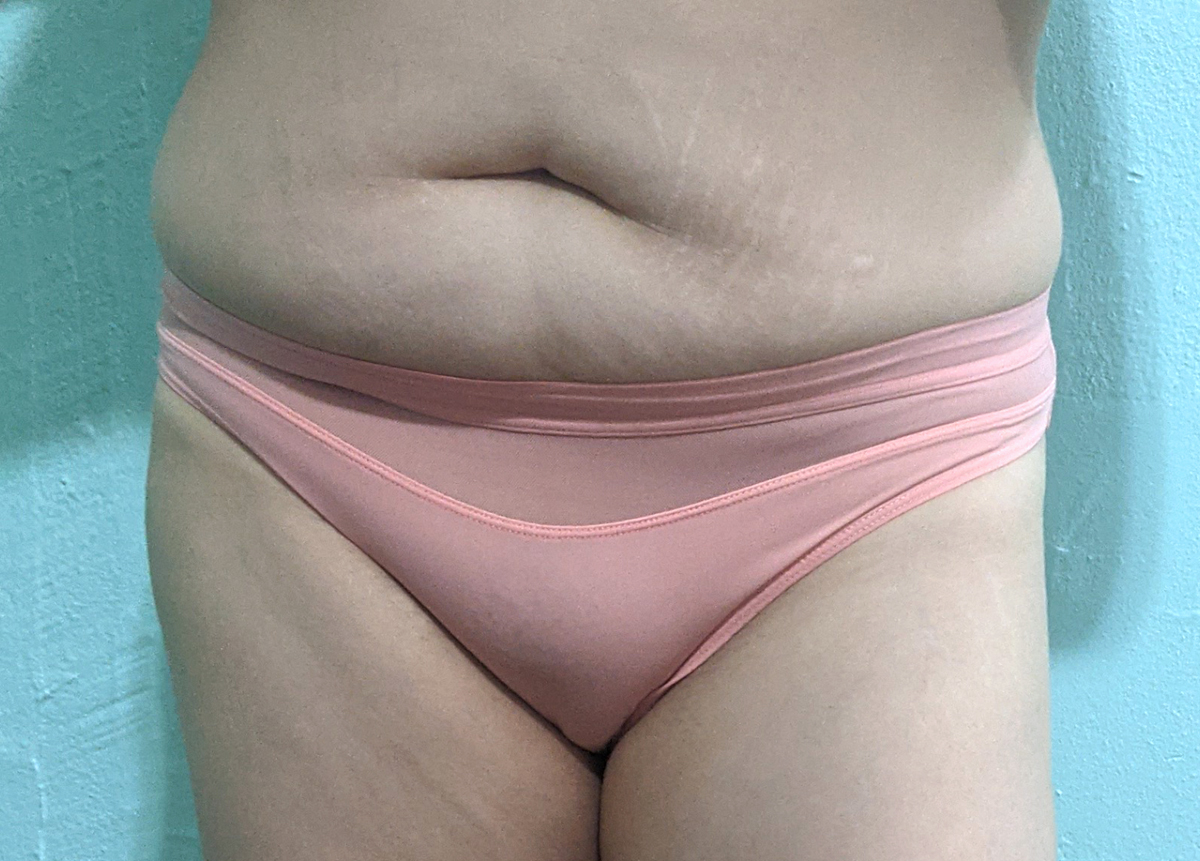 I ordered a size M according to their size chart. It fits me nicely, but to be honest, I think a size S or XS would fit, too. These knickers are sooo stretchy, making them perfect for diverse body types. My flat butt loves them. And the mesh blocking on this pair is chic and cute, without being too trendy or looking like a mall brand knockoff.
The biggest problem I have with these is the elastic waistband, which doesn't have amazing recovery. It looks a bit stretched out after you take them off. They seem to snap back after washing, but I wonder about their longevity.
Regardless, this brief is very comfortable and super cute. With their pretty colors and super easy fit, Parade is the brand I would probably be most likely to purchase from in the future.
Overall Thoughts on Underwear Startups
Are any of these brands "disrupting the lingerie industry," as many startups like to claim? I'm not sure.
To me, the main draw of these DTC brands is the combination of lower prices, nice styles, and positive ethics. No, they aren't selling the cheapest, sexiest underwear on the planet. However, MeUndies and EBY both have strong ethical statements. Parade talks a lot more about their recycled fabrics than their manufacturers, but at least mentions their factories operate at the "highest ethical standards" on their FAQ page. Ethically-made lingerie is often (understandably) expensive, so I love having ethical options that rival the prices of popular mall stores.
These options are not as cheap as ethically-made Hanes underwear, but, well…they're much cuter. So if you're looking for well-priced underwear brands that make cute panties and care at least a little about their garments workers' livelihoods, these three brands are great options.
Have you tried any of them?